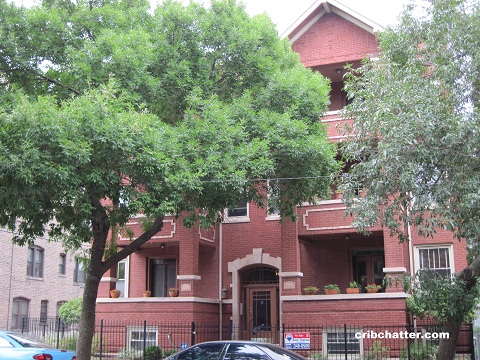 This 2-bedroom at 1518 W. Olive in Andersonville just came on the market.
But if it looks familiar that's because we last chattered about it all the way back in December 2010 wondering how hot Andersonville was- even during the bust.
In 2010, some of you couldn't believe that Andersonville prices were similar to Lakeview's. See our chatter here.
If you recall, the building was constructed in 1925 and has 8 units.
The kitchen has 42 inch maple cabinets, stainless steel appliances and granite counter tops.
It has two bathrooms, one being slate and the other being marble.
There is a large 13×9 front terrace as well as a back deck.
The unit has all the features buyers look for including central air, washer/dryer in the unit and garage parking.
It never sold in the 2010-2011 time frame and was simply delisted in 2011.
But it came back on the market in the hot 2013 market and appears to have sold over the list price at $330,000.
The unit is listed for $70,000 more just 2 years later.
Will this property set a new record high price when it sells?
Elizabeth LaTour at Dream Town has the listing. See the pictures here.
Unit #1E: 2 bedrooms, 2 baths, 1 car parking, no square footage listed
Sold in March 2002 for $300,000
Sold in February 2005 for $372,000
Originally listed in September 2010 for $389,000
Reduced
Delisted in March 2011
Re-listed in April 2013 for $280,000
Sold in July 2013 for $330,000
Currently listed for $400,000
Assessments still $333 a month (same as in 2010)
Taxes now are $5424 (they were $4693 in 2010)
Central Air
Washer/Dryer in the unit
Bedroom #1: 12×14
Bedroom #2: 10×10