This is a very busy week for new construction announcements with seemingly at least a half a dozen GreenZone building announcements made this week.
But none were more momentous than the two high rise projects announced for the South Loop.
The first building is a Rafael Vinoly designed 76-story tower at 113 E. Roosevelt that may be one or possibly two towers anchoring the south end of Grant Park at Roosevelt and Michigan (see below for renderings). There is a 2-acre parcel available there.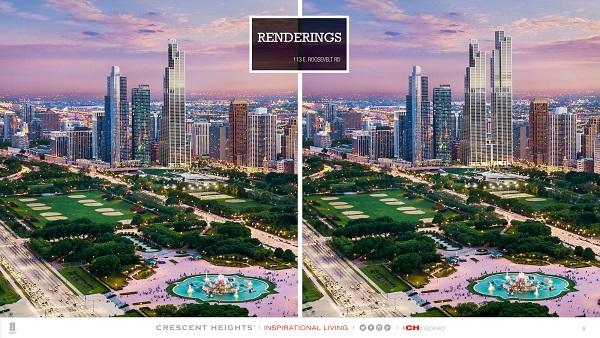 From Curbed:
The project would be Crescent Heights' first new construction project for Chicago, and the aim would be to "anchor the south end of Grant Park." The almost modular looking project would be built in phases and could ultimately produce nearly 800 new apartments for the area. Because of the sheer scale of the development, the plan would include apartments of varying sizes, floor plans and prices. According to Viñoly, the plan would present a number of options for folks in different price ranges and needs, stating that the project is "not just an architectural idea, but an urban design idea."
The second tower is Helmut Jahn's 86-story condo/apartment building at 1000 S. Michigan Avenue that would have 506 residences and 598 parking spaces.
The rendering below is from JAHN- with the one on the left including the newly announced Vinoly towers.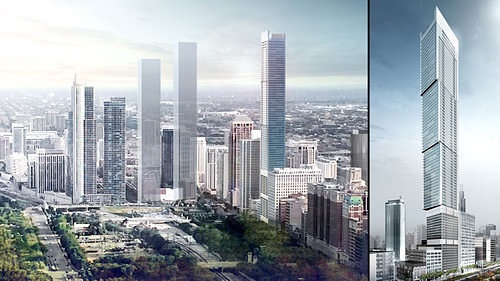 From Dennis Rodkin at Crain's:
The exterior would be mostly clad in glass, with two vertical "zippers" running up the Michigan Avenue facade that contain inset, glass-railed balconies.

The developer's proposal says the building would be 993 feet tall but shows a cap over the rooftop terrace that would reach 1,030 feet. At that height, the building would rank as Chicago's fifth-tallest, after the Willis, Trump, Aon and Hancock towers. However, the planned Vista tower by Jeanne Gang is currently designed to be 64 feet taller Jahn's.
What are your thoughts on the possibility of several new mega-high rises in the South Loop?
These are not your run-of-the-mill apartment building announcements.