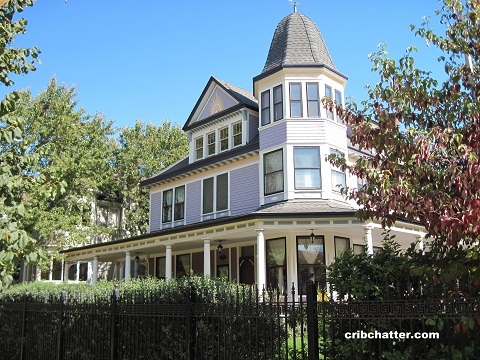 The Abbott Estate at 4605 N. Hermitage in the Ravenswood neighborhood of Uptown recently came on the market.
If it looks familiar, it's because we chattered about it in 2010 after it had been on the market during the Great Recession years in 2009 and 2010.
You can see our chatter here (where some of you advocated tearing this down and building something new).
This is a unique north side property.
Built in 1891 for the founder of Abbott Labs, this Victorian is on an oversized 92×165 corner lot (which is nearly an acre), and has a wrap around porch.
The house is 7000 square feet.
It also has an updated carriage house. In 2010 they were renting it out for $2400 a month. The current listing doesn't say that it is rented.
In 2010, the listing said the home had updated bathrooms and mechanicals. The current listing says it has been "modernized."
The kitchen has white cabinets and stainless steel appliances.
5 bedrooms are on the second floor with the master suite is on the top floor.
In 2010, the basement was unfinished but now the space has drywall and carpeting and a rec room, exercise room, work room and playroom.
There's space pak cooling.
In the last hot market, in 2006, the house sold in only about a month for just $39,000 under the list price.
But in 2009, it didn't sell until February 2011.
We're back in a hot market again but the house is listed for more than double the 2004 price.
How long will it take to sell this time?
Julie Dorger at Coldwell Banker has the listing. See the pictures here.
4605 N. Hermitage: 6 bedrooms, 6 bathrooms, 7000 square feet
Sold in May 2004 for $1.5 million
Sold in October 2006 for $1.95 million
Originally listed in August 2009
Was listed in November 2009 at $2.338 million
Reduced
Listed in September 2010 for $1,999,999
Reduced
Was listed in October 2010 at $1,799,000
Sold in February 2011 for $1,606,000
Currently listed at $3.449 million
Taxes are now $16,141 (they were $18268 in October 2010)
Space Pak cooling
Rental carriage house
There's now a 2-car garage
Bedroom #1: 18×17 (third floor)
Bedroom #2: 20×16 (second floor)
Bedroom #3: 19×16 (second floor)
Bedroom #4: 16×12 (second floor)
Bedroom #5: 12×11 (second floor)
Bedroom #6: 16×12 (second floor)
Recreation room: 44×15 (basement)
Exercise room: 20×19 (basement)
Work room: 12×11 (basement)
Playroom: 23×13 (basement)