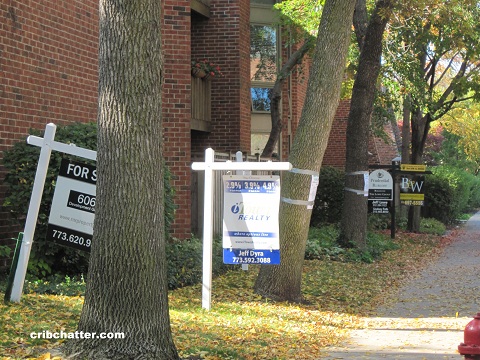 February sales data is out. Sales rose only 2.1% year over year, while the median price skyrocketed.
However, it was still the hottest February for sales since the boom year of 2007.
From the Illinois Association of Realtors:
The city of Chicago saw a 2.1 percent year-over-year home sales increase in February 2016 with 1,528 sales, up from 1,497 in February 2015. The median price of a home in the city of Chicago in February 2016 was $238,000, up 12.3 percent compared to February 2015 when it was $212,000.
Here is the sales data for February going back to 1997 (courtesy of G). It is slightly different from the IAR's data:
1997: 881 sales
1998: 991
2000: 1383
2001: 1151
2002: 1677
2003: 1566
2004: 1814
2005: 2228
2006: 1855
2007: 1703
2008: 1454
2009: 870
2010: 1257
2011: 1092
2012: 1250
2013: 1411
2014: 1361
2015: 1497
2016: 1528
Here is the Median Price Data also going back to 1997 (thanks G!):
1997: $117,000
1998: $132,000
1999: $143,750
2000: $161,500
2001: $180,200
2002: $212,000
2003: $215,000
2004: $229,900
2005: $268,900
2006: $267,500
2007: $270,000
2008: $290,000
2009: $218,125 (with 31% being REO/Short Sales)
2010: $176,000 (with 46% being REO/Short Sales)
2011: $150,250 (with 50% being REO/Short Sales)
2012: $140,300 (with 52% being REO/Short Sales)
2013: $158,000
2014 $175,000
2015: $212,000
2016: $238,000
"Now is the time to sell your home if you've been thinking about doing that," said Dan Wagner, president of the Chicago Association of REALTORS® and senior vice president for government relations for The Inland Real Estate Group. "Compared to last year, the median sales price for all closed sales is up about 12 percent and there is a faster turnaround time between when a home is listed and when it sells."

"The housing market in Illinois continues to record comfortable increases in both sales and prices," said Geoffrey J.D. Hewings, director of the Regional Economics Applications Laboratory (REAL) at the University of Illinois.  "Particularly important has been the consistent decrease in the percentage of sales accounted for by foreclosed properties in Chicago.  The influence of foreclosed properties on aggregate prices seems to be diminishing while the foreclosure inventory remains at levels above those during the pre-recession period."
Statewide, the number of properties on the market decreased by 11.3% from February 2015. What's striking about that is that last February the state was still in the midst of a polar vortex type winter. The statistic should be reversed. There should have been fewer properties listed in February last year- not this year with our mild winter.
The number of days on the market, statewide, also plunged to 81 days from 90 days a year ago.
The press release makes a big deal about the increase in median sales price, but, as we know, that number can really be skewed by the types of properties that are selling at any given time. It's not an actual indicator about what price is doing.
There doesn't seem to be any relief from the low inventory problem we also saw in January. It remains as tight as ever which is leading to multiple offers and higher prices for many properties.
What will slow this market down, if anything?
Strong Illinois home sales and prices continue into February[Illinois Association of Realtors, Press Release, March 21, 2015]