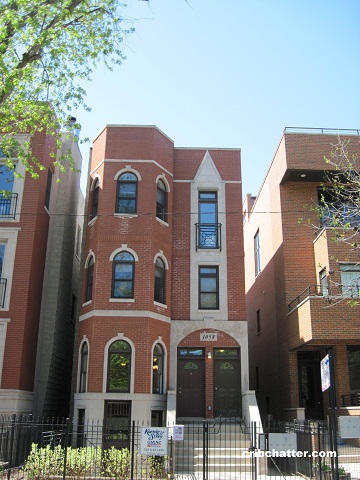 This top floor 2-bedroom at 1058 N. Paulina in the East Village neighborhood of West Town just came on the market.
For those of you have been reading this blog a long time, you might recognize it as we chattered about it when it was on the market in 2010.
See our chatter here.
Back then, some of you thought it was a little pricey for a "cookie cutter" condo. But that was in 2010, when we were still in the middle of the bust.
You may recall that it has a small Juliet balcony off the front of the unit and a deck off the back that is accessed through a separate hallway.
The listing says it has a "gourmet" kitchen with stainless steel appliances and granite counter tops.
The master suite has a walk-in closet and a spa bath.
It has all the other features buyers look for, including central air, washer/dryer in the unit and garage parking.
This unit didn't sell in 2010 when we last chattered about it, but it finally DID sell in 2012.
A lot has changed in the neighborhood since 2010. The Division Street area has gotten even hotter as more restaurants and bars have opened.
This unit is listed for $90,000 more than the 2012 purchase price, and, at $419,000, would be a new record high for this property.
Will it get the premium in this market?
Sam Shaffer at Chicago Properties has the listing. See the pictures here.
Unit #3: 2 bedrooms, 2 baths, 1200 square feet
Sold in April 2002 for $295,000
Originally listed in April 2010 for $359,900
Withdrawn
Sold in July 2012 for $329,000
Currently listed for $419,000
Assessments now $118 a month (they were $150 a month in 2010) includes water, common insurance
Taxes now $4739 (they were $4114 in 2010)
Central Air
Washer/Dryer in the unit
Garage parking included
Bedroom #1: 14×10
Bedroom #2: 11×10