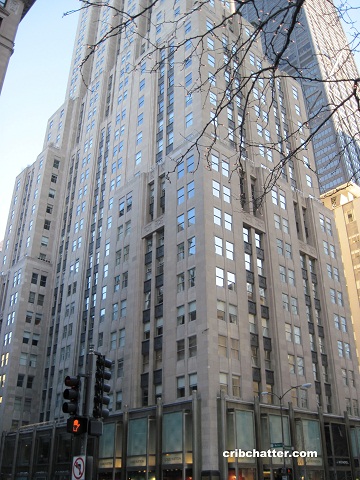 We've chattered about Vince Vaughn's Palmolive penthouse at 159 E. Walton in the Gold Coast several times over the years.
You can see the 2012 chatter here.
He's been trying to sell it since 2011 to no avail.
Last week, he took the unusual step of splitting the triplex penthouse into two units composed of one full floor unit and a top floor duplex.
The full floor unit, which is 4292 square feet, will be priced at $4.2 million.
The penthouse duplex, with 7880 square feet, will set you back $8.5 million.
Apparently, no one wanted all that space.
Having the penthouse as a duplex and not as a triplex as it's currently configured — was "originally how the developer had it done," Malkin said. "We got feedback from buyers that (the triplex) was too much square feet."

"Like most things in those price points, it's something that's a second or third or fourth home for someone," Malkin said. "So we decided this was a different marketing opportunity. We thought we'd see if this was a better way to do it."

Malkin said a potential buyer of just the 36th and 37th floors would not need to make many changes to the unit, necessarily. However, the 35th floor likely would require significant alterations, she said. The option also exists that a buyer may come on the scene and choose to buy all three levels, she said.
According to the Tribune, an internal staircase would have to be removed if someone bought the full floor unit.
It looks like it was giving buyers what they wanted, because BOTH units have gone under contract in only a week.
Were there already buyers waiting on the sidelines to buy the split units before they went to the press with this? (And if so- why go to the press with it at all?)
Or did buyers suddenly materialize for the smaller units at the same time within a week of splitting them because the market is that hot?
Or is the same buyer actually buying both listings after all?
Katherine Malkin at Baird & Warner has both listings.
You can see the pictures for the full floor unit here.
159 E. Walton #35: 3 bedrooms, 3.5 baths, 4292 square feet
Currently listed for $4.2 million
Under contract in just a week
Assessments of $4034 a month (includes heat, a/c, gas, doorman, cable, exercise room, exterior maintenance, scavenger, snow removal
Taxes are $15,556 (per Redfin)
1 car parking included
Central Air
Washer/Dryer in the unit
You can see the pictures for the top floor duplex here.
159 E. Walton PH: 3 bedrooms, 5.5 baths, duplex, 7880 square feet
Sold in September 2006 for $12 million
Originally listed in June 2012 for $18.4 million
Reduced
Was listed in 2012 for $16.75 million
Reduced to $13.9 million
Split up the unit into 2 units
Now listed as a duplex for $8.5 million
Under contract in only a week
Assessments now $8988 (they were $11,595 a month as one unit in 2012)
Taxes now $34,920 (they were $42,772 as one unit in 2012)
Central Air
Washer/Dryer in the unit