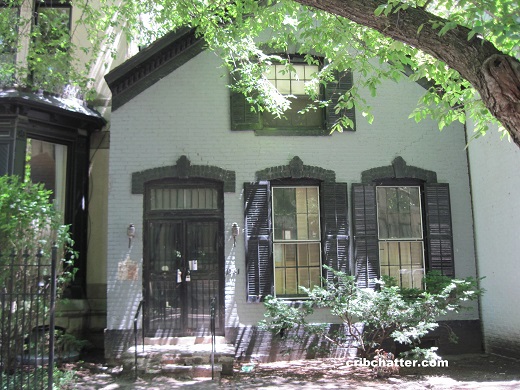 This 2-bedroom worker's cottage at 1241 N. State Parkway in the Gold Coast came on the market on June 2, 2016.
It is well known simply because of its location in the Gold Coast and the fact that it isn't a big rowhouse but is a simple cottage.
The sale closed late last week.
Listed for $1.495 million, it sold for $1.5 million.
According to DNAinfo, the developer who is buying it has already filed for a demolition permit.
The cottage was built in 1872, just a year after the Great Chicago Fire. According to DNAinfo, it was built to house workers participating in the rebuilding of the city.
It is built on a smaller than standard lot of 22.5 x 150 but has a 2-car garage.
Measuring just 1072 square feet, both bedrooms are on the second floor.
The listing agent told DNAinfo the property was in bad shape:
It has vintage charm, but is also in "severe disrepair" and doesn't have any kitchen appliances, co-listing agent Stefanie Lavelle of Coldwell Banker told DNAinfo Chicago last week. The home sits on an extra-long lot that could be developed or remain a nice backyard that's rare in the neighborhood, she said.

The cottage "is a special place, but it's sitting on a gold mine," Lavelle said earlier this month. The home is being sold by the estate of a man who died last year.
This is the last remaining cottage in the neighborhood. It is located in the Gold Coast Historic District but that, apparently, isn't enough to save it from demolition.
From DNAinfo:
The cottage is one of 9,600 buildings considered to have enough historical significance to warrant a 90-day demolition delay. That allows city officials time to explore alternatives, such as giving the home landmark protection.

The hold worked for three vintage buildings set to be demolished on nearby Bellevue Street two years ago when city officials ultimately convinced those developers to keep the properties intact.

Demolition alternatives are devised by the city's department of planning and development, then relayed to the city's commission on landmarks for consideration. Peter Strazzabosco, the city's deputy commissioner of planning and development, declined to say whether the department would work to save the Gold Coast cottage.
Will this cottage be saved?
Should historic structures like this be landmarked or is a teardown simply progress?
C Bryce Fuller at Coldwell Banker had the listing. You can see the listing pictures here (no pictures of the interior but there are pictures of the backyard – which are interesting to see.)
1241 N. State Parkway: 2 bedrooms, 1 bath, 1072 square feet, 2 car garage
There's no prior sales price. It was put into a Trust in 1994
There was no mortgage on the property
Originally listed on June 2, 2016 for $1.495 million
Sold on June 30, 2016 for $1.5 million
Filed for permit to demolish the cottage
Taxes of $5088
Central Air
Bedroom #1: 15×14 (second floor)
Bedroom #2: 15×12 (second floor)
Living room: 30×13