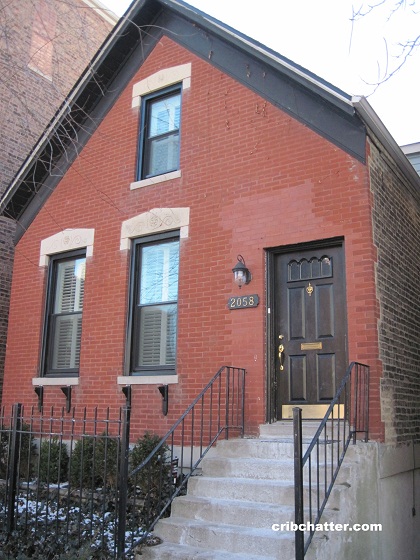 This 2-bedroom single family home at 2058 N. Leavitt in Bucktown just came on the market.
But some of you remembered it from 2012 (thanks to MatthewLesko), when it was last featured here on Cribchatter.
Back in 2012, it was a 3-bedroom but it's now listed as a 2-bedroom, with a third bedroom in the basement.
It was originally listed for $599,000 in 2011.
But by 2012, it had been on the market for months, and had been reduced to $549,000.
Check out that chatter here.
Now, in 2016, it is back.
If you recall, it was built in 1887 on a smaller than standard Chicago lot of 24×100 but still has a 2-car garage.
The kitchen still has the same 42 inch maple cabinets, granite counter tops but all the appliances are now stainless (back in 2012, it was a mix of black and stainless appliances.)
The house has central air and a lower level family room, along with a work room and laundry.
The current listing makes a big deal out of the fact that you can buy a condo for the price of this single family home:
"Why buy a condo when you can have a single family home for the same price & enjoy care free living without any association."
In the 2012 Zillow listing, the house is listed as having 1238 square feet. I'm assuming that doesn't include the basement.
The house finally sold for $490,000.
There used to be a preference for single family homes among buyers but developers have been building bigger condo units in recent years.
Would you rather have a single family home or a condo for your $669,000 in Bucktown?
Edward Jelinek at @Properties has the listing. See the pictures here.
Or see it at the Open House on Saturday, August 6 from 12- 2 PM.
2058 N. Leavitt: 2 bedrooms, 2 baths, no square footage listed, 2 car garage
Sold in June 1992 for $118,000
Sold in September 1997 for $250,000
Sold in September 2000 for $409,000
Sold in March 2003 for $427,500
Sold in December 2005 for $560,000
Originally listed in July 2011 for $599,000
Reduced
Sold in July 2012 for $490,000
Currently listed at $669,000
Taxes are now $8835 (they were $7002 in 2012)
Central Air
Bedroom #1: 15×12 (second floor)
Bedroom #2: 14×10 (second floor)
Bedroom #3: 18×11 (lower level)
Office: 9×17 (lower level)