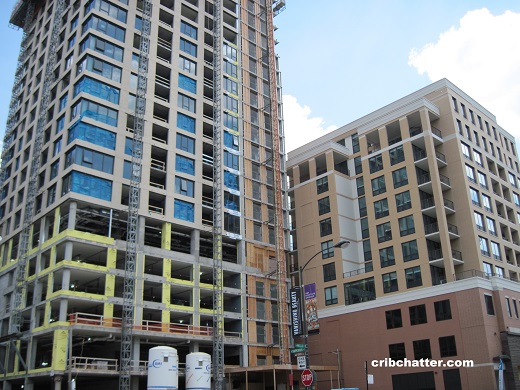 We've chattered several times this year about the thousands of new apartments, many of them "luxury" that are being built all over Chicago.
Normally, this would be a good sign that the Chicago economy was strong and jobs were being created.
But the number of new apartments is well above current absorption rates while rents continue to rise.
In Logan Square, for instance, according to Curbed, there are 1500 apartments planned.
See more details here.
We know that "downtown" there are thousands of apartments under construction or soon-to-be under construction. Here's the totals as we know them right now:
2016: 3830 apartments
2017: 4500 apartments expected
2018: 4200 apartments expected
If everything is built, that's a 39% increase in downtown apartments.
The 3830 apartments built this year was the highest rate since 2001 but, remember, the developers were busy building condos for most of the early 2000s so it's been nearly 20 years since a lot of new apartment stock was built.
Still, there are already some cracks beginning to show in the rental market.
Landlords are starting to feel the impact of an historic building boom that is adding thousands of apartments to the downtown market. While rents are holding steady so far, the occupancy rate for high-end buildings fell in the third quarter to its lowest level in nearly seven years, according to a report from Appraisal Research Counselors, a Chicago-based consulting firm.

The occupancy rate at Class A buildings fell to 92.2 percent in the quarter, down from 94.8 percent in the second quarter and 93.7 percent in third-quarter 2015, according to the report. The Class A occupancy rate, which does not include buildings in their lease-up phase, hasn't been that low since late 2009.
What's going to happen with the apartment market in 2017?
Will some of these buildings be converted to condos, where there appears to be more demand?
Or will a hot economy fill up all of these buildings at their current rental rates?