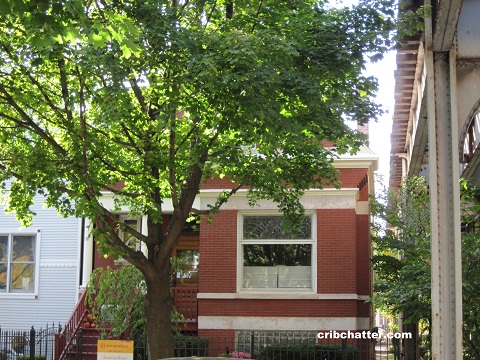 This 3-bedroom brick single family home at 3408 N. Bosworth in Southport just came on the market.
But long time readers will recognize it because we've chattered about it 4 times since it first came on the market in 2010.
See the October 2010 chatter here where we had a spirited discussion about how close, and at what price, you could live near the El tracks.
See the March 2013 chatter here as it came back on the market.
See the May 2013 chatter here after the price was reduced.
We also chattered about it after it came on the market as a rental in June 2013. See that here.
The house also came back on the market in February 2016 and was withdrawn in August. I didn't bother to crib about it last year.
But here it is again so how can I resist?
Built in 1877, it still has one stained glass window and a some original woodwork.
It's on a standard 25×125 lot with a 2-car garage and has central air.
The new listing says it has a "completely remodeled pass through kitchen" with a Viking stove and Jenn-Air appliances with white cabinets.
There's an unfinished basement which apparently has a "working toilet".
The two bedrooms are on the second floor and there's a third "bedroom" or, as the listing says, a den, on the main floor.
The listing notes that it's near Southport shops, the new, huge Whole Foods on Ashland/Belmont and is a "7 minute walk from Wrigley Field."
It has come back on the market at the lowest listing price of the last 7 years: at $475,000.
What's the catch?
As we have chattered about before, the elevated Brown Line tracks run right next to the house.
The listing doesn't try and hide it as it says: "Please note the proximity to the Brown Line eL."
But every property sells eventually.
Is the price now low enough to make the El tracks less of an issue?
John Gault at @Properties has the listing. See the pictures here.
Or go to the open house this weekend and judge the El for yourself. It will be open on Saturday, January 7 from 12PM to 2PM and on Sunday, January 8 from 1PM to 3PM.
3408 N. Bosworth: 3 bedrooms, 1 bath, no square footage listed, 2 car garage
Sold in February 1996 for $132,000
Sold in February 1997 for $170,000
Sold in June 2002 for $428,000
Sold in July 2005 for $569,000
Originally listed in April 2010 for $749,000
Withdrawn
Listed as a rental in June 2013
Re-listed in February 2016 for $500,000
Withdrawn in August 2016 still listed at $500,000
Currently listed for $475,000
Taxes are now $10,358 (they were $8523 in October 2010)
Central Air
Bedroom #1: 15×14 (second floor)
Bedroom #2: 14×10 (second floor)
Bedroom #3: 11×13 (old listing says it was 11×8) (main floor)
Living room: 23×12
Dining room: 12×12
Kitchen: 16×9
Mudroom: 9×6
Unfinished basement with a toilet