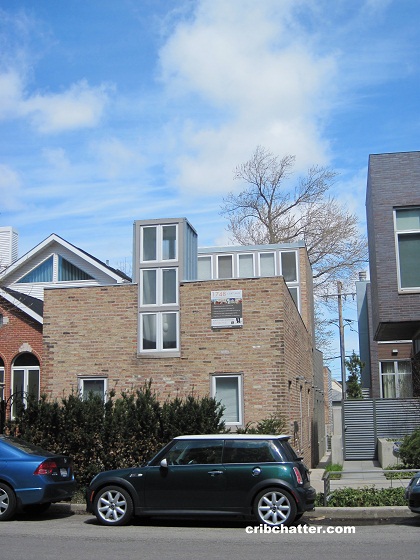 This 3-bedroom 2-flat at 1748 W. Cortland in Bucktown recently came on the market.
We chattered about this home the last time it was on the market and debated who the buyer would be of this kind of set-up. You can see our December 2011 chatter here.
Built in 1890, the old listing said it was custom built by renowned architect Joe Valerio.
The property, on a 24×125 lot, has a modern interior including a 2-story living room with a lofted bedroom.
The kitchen has white cabinets, white appliances and zinc counter tops.
There is a third floor master suite.
It also has a ground floor 1-bedroom rental with 11 foot ceilings and a kitchen.
The current listing says a door can be added to connect it to the main house.
The master bedroom is on the third floor with the second bedroom and a family room on the second level.
It has central air and a 2-car garage.
The listing says it's in the Pulaski school district and it's just a block to the 606.
This house took several years to sell the last time we chattered about it but the rental market has skyrocketed since then.
Will the fact that it has the 1-bedroom attached rental be a positive or a negative this time around?
There's a floor plan listed this time around. If you can figure it out, please inform us.
Leigh Marcus at @Properties has the listing. See the pictures here.
1748 W. Cortland: 3 bedrooms, 2.5 baths, 2264 square feet, 2 car garage
Sold in March 1995 for $93,000
Lis pendens foreclosure filed in June 2010
Originally listed in July 2010 for $825,000
Reduced
Was listed in December 2011 at $799,000
Sold in January 2014 for $775,000 (according to Redfin because the CCRD is down AGAIN.)
Currently listed for $830,000
Also has a 1/1 rental on the first floor. The listing doesn't indicate how much it rents for.
Taxes are now $9653 (they were $7563 in 2011)
Central Air
Bedroom #1: 18×13 (third floor)
Bedroom #2: 15×14 (main floor)
Bedroom #3: 16×15 (second floor)
Second kitchen: 11×6