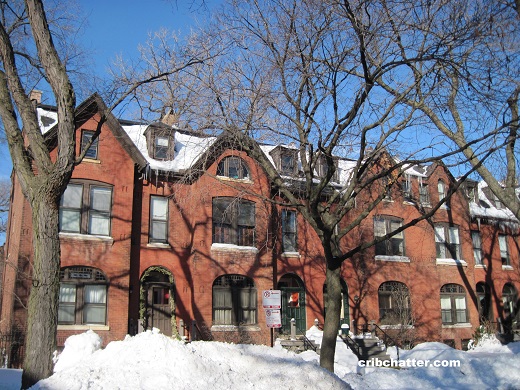 This historic 3-bedroom row house at 848 W. Belden in Lincoln Park came on the market in October 2016.
We chattered about it being one of the most bizarre listings ever to be on Crib Chatter – and there's been a LOT of properties over the years.
You can see our chatter here.
What is so unusual about it?
Here's the listing description:
THIS PROPERTY IS BEING SOLD OCCUPIED WITH ANY AND ALL CURRENT OCCUPANTS, IF ANY. NEITHER THE SELLER NOR THE LISTING BROKER CAN VERIFY THE EXISTENCE OF ANY LEASE AGREEMENT WITHER WRITTEN OR VERBAL NOR ANY RENTAL AMOUNT BEING PAID, DUE OR OWING. BEING SOLD IN AS IS CONDITION / NEW BUYERS ARE TO EVICT / CASH OFFERS ONLY / NO INSPECTIONS / DO NOT DISTURB OCCUPANTS. SEE AGENT REMARKS FOR OFFER SUBMISSION INSTRUCTIONS.
If you recall, these row houses were built between 1884 and 1889 and make up the McCormick Row House District.  They are found on both Fullerton and Belden as well as Chalmers Place, which is the secret street in between.
The picture above is of the second grouping on Belden which is numbered up to 858 W. Belden. 848 W. Belden would be on the far right of this group of row homes.
They were apparently originally built to provide rental income for the nearby McCormick Theological Seminary.
The row houses were designated Chicago Historic Landmarks in the 1970s.
There are 56 total homes. I also believe there's a homeowners association with an assessment, although the listing for this row house says it is "fee simple" and doesn't list any HOA fees.
These were built in the Queen Anne style. Some of them still contain their vintage features like crown moldings and fireplaces.
We don't know what the inside of this one looks like because there are no interior pictures. You are buying it sight unseen.
Also, apparently, even though it was on the market last fall, the listing now says there are multiple offers.
Multiple offers: highest and best offers due 01-16 by 5 p. m.
The price has been reduced $273,300 since October and is now listed at $719,900.
In our last chatter, some of you thought a price around $700,000 would be a deal.
Currently, there are no other row houses on the market in the historic district. It no longer has any competition.
Will it sell this time?
And if there are multiple offers, will buyers now overbid?
Michael Olszewski at Area Wide Realty has the listing. See the listing here.
848 W. Belden: 3 bedrooms, 3.5 baths, 2904 square feet
Sold in July 1997 for $658,000
Lis pendens foreclosure filed in October 2009
Bank owned in January 2015
Was listed "as-is" in October 2016 for $993,200
Reduced
Now listed at $719,900
Cash only
Taxes of $14,157
Listing says no central air
Listing says 2-car parking
HOAs?
Bedroom #1: 19×14 (second floor)
Bedroom #2: 13×11 (second floor)
Bedroom #3: 12×10 (second floor)
Den: 12×11 (second floor)