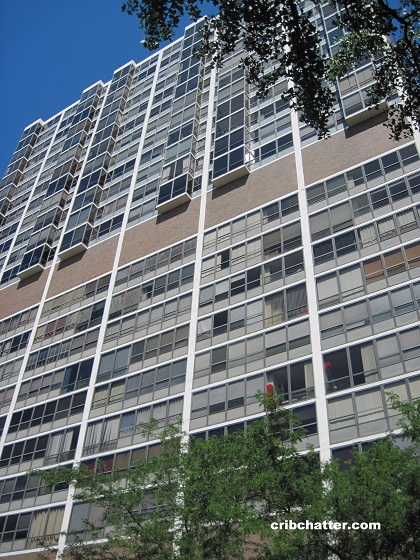 This 2-bedroom duplex in Kennelly Square at 1749 N. Wells in Old Town came on the market in January 2017.
The listing says it has been fully rehabbed with a new kitchen and baths.
The wraparound kitchen has granite counter tops,  including on the breakfast bar, stainless steel appliances and wood cabinets.
The two bedrooms are on the top floor accessed by a spiral staircase.
While the unit has central air, it doesn't have in-unit washer/dryer and parking is rental in the building.
Built in 1972, Kennelly Square is a full service building with an outdoor pool, doorman and exercise room.
Many of Chicago's 1960s and 1970 apartment and condo towers are facing repair.
An Old Town condominium building is facing an estimated $18 million repair bill — leaving some residents on the hook for one-time payments of as much as $80,000.

Bruce Theobald, a condo owner at the Kennelly Square condominium at 1749 N. Wells St., said the more than 260 unit owners had been told that estimated repairs were $18 million, requiring a special assessment.

According to Theobald, that would mean "rough numbers" of about $30,000 for a studio, $50,000 for a one-bedroom and as much as $80,000 for a two-bedroom.

"This problem has been developing literally for decades," Theobald said, adding that repairs were put off too long.

Theobald, who is also a real estate broker, said that makes a compelling case for selling the building in a so-called deconversion, returning it to apartments. He accused the Kennelly Square Condo Association Board of not adequately pursuing that as an option.

Theobald called it "a building in a state of crisis," saying that the property manager had passed along figures that the city was mandating $2 million in necessary repairs, while "reskinning" the building — a practice that has been called an "energy-saving face lift" — would bring the total cost to $18 million.
The building is supposedly assessed at about $60 million.
It is considering its options, including de-converting back to apartments. According to DNAInfo, it was converted to condos in 1979.
How closely do you look at the condo association when you're buying?
And is the day of reckoning coming for many older buildings who have put off repairs?
Joel Holland at Coldwell Banker has the listing. See the pictures here.
Unit #409: 2 bedrooms, 2 baths, 1400 square feet, duplex
Sold in September 1991 for $132,000
Sold in June 2013 for $295,000
Currently listed at $375,000
Assessments of $863 a month (includes heat, doorman, cable, exercise room, outdoor pool, exterior maintenance, lawn care, scavenger, snow removal)
Taxes of $5348
Central Air
No washer/dryer in the unit. Laundry room in the building
Garage parking is rental
Bedroom #1: 21×12 (second floor)
Bedroom #2: 15×13 (second floor)