The Theurer-Wrigley 9-bedroom mansion at 2466 N. Lakeview in Lincoln Park has returned to the market.
We've chattered about it several times over the years, with the last time in November 2014 when it recently came back on the market.
See our chatter here.
Back in 2014, it was unclear what was happening with it as a lis pendens foreclosure had been filed.
Now we know.
According to Dennis Rodkin at Crain's, the mansion reverted to Bank of America in September 2016.
The palatial house was built in 1896, designed by architect Richard Schmidt in a late-Italian Renaissance style for Joseph Theurer, president of the Schoenhofen Brewing Company. In 1911, he sold it to William Wrigley, Jr. the chewing gum company's founder. He died in 1932, but the family held onto the home until 1984.

The house was empty much of that time, and at one point was considered for use as the official residence of the mayor of Chicago. It was declared a Chicago landmark in 1979. An art publisher, Nicholas Jannes, bought the mansion from the Wrigley family in 1984 and put it through an extensive renovation over the next four years. He sold it to the Tetzlaffs in 2004.
It was listed on the National Register of Historic Places in 1980.
It has much of the features of a mansion built in 1896 including original cherry and mahogany wood paneling and staircases. It has crown molding and 5 fireplaces along with herringbone floors.
The main house has 9-bedrooms in 13,705 square feet. 5 of the bedrooms are on the second floor, three are on the third and one is in the lower level.
From the listing of what else the house includes:
"a grand foyer; a solarium; butler's pantry; wine bar; walk-in vault; game rooms; staff quarters; a mahogany paneled library; sprawling master suite with his and hers baths; and top floor ball room with unobstructed Lincoln Park and Lake Michigan views."
Where else have you seen a house with an actual ballroom? You MUST look at the pictures. They seem so much better this go-around.
There is also a 2000 square foot coach house with 2 residential units on the 85×120 property with 5-car parking, 3 cars in a garage and 2-cars on the driveway.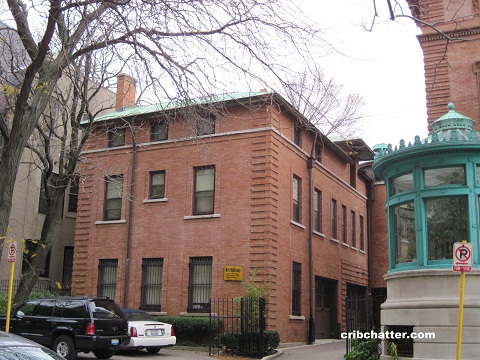 There's no central air, only window units.
And, according to the Crain's story, the kitchen needs updating.
Given the bones of this house, and the strong luxury market, will this sell quickly at this lower price?
Anthony Disano at Parkvue Realty has the listing. See the pictures and floor plan here.
2466 N. Lakeview: 9 bedrooms, 7.5 baths, 13,705 square feet in the main house, coach house with 2 apartments, 5 car parking
Sold in April 2004 for $9 million
Lis pendens foreclosure filed in May 2011
Was listed in October 2011 for $9.5 million
Withdrawn in October 2012
Was listed in November 2014 for $8.695 million
Withdrawn
Bank owned by Bank of America in September 2016
Currently listed for $7.15 million
Taxes are now $150,325 (they were $145,294 in 2014 and $118,395 in 2011)
No central air- window units only
2 apartments in coach house for staff
5 fireplaces
Bedroom #1: 20×17 (second floor)
Bedroom #2: 18×12 (second floor)
Bedroom #3: 14×12 (second floor)
Bedroom #4: 20×13 (second floor)
Bedroom #5: 15×12 (second floor)
Bedroom #6: 18×13 (third floor)
Bedroom #7: 19×16 (third floor)
Bedroom #8: 11×10 (third floor)
Bedroom #9: 15×12 (lower level)