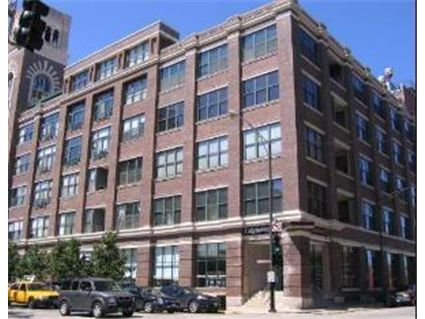 We've chattered about the incredible asking prices on some condos in the red hot West Loop this year.
Now, Crain's is reporting that a new construction penthouse condo listed at $5.6 million has gone under contract in 900 W. Washington.
It would be the most expensive condo ever sold in the neighborhood. By far.
The record purchase price for a West Loop condo is set to more than quadruple, with a buyer agreeing to pay more than $5 million for a not-yet-built penthouse on Washington Street.

The asking price is about $5.6 million for the home, which is under contract. The listing agents declined to provide any details on the buyer, whom they referred to only as "he."

"We're getting a younger generation, the tech crowd, in the West Loop," said Shannon Kelly, one of two Jameson Sotheby's International Realty agents representing the building, 900 W. Washington. Kelly and Melanie Giglio, the other listing agent, declined to say whether the buyer is part of that tech crowd. But he is paying close to the list price, Giglio said.

Of the 22 units planned for the building, five are under contract, including the penthouse, Giglio said.

Construction is scheduled to start next month, with the building ready for occupancy by summer 2018.
This year, the most expensive condo sale in the West Loop was a $1.2 million sale in the loft building at 1000 W. Washington. That condo was 2400 square feet.
That's just $500 per square foot.
"It seems like they're reaching for the sky," said Colagiovanni, who's been selling property in the West Loop since the late 1990s and lived there until a few years ago. "The West Loop isn't Silicon Valley."

The penthouse prices at 900 W. Washington are over $1,100 a square foot. Existing condos in the West Loop are selling in the range of $475 to $525 a square foot, up from $350 to $375 about two years ago, Colagiovanni said. For new construction at the Hayden West Loop, asking prices are below $800 a foot.

"That's a big difference" from what the 900 W. Washington units are asking, Colagiovanni said.
The argument I keep hearing for rising West Loop and Fulton Market prices are that all those jobs, including McDonald's, are coming there.
But prices didn't skyrocket in the Loop when Boeing moved 500 top executives from Seattle to Chicago nor near the offices of Grubhub, after they went public.
This argument assumes that every McDonald's employee will move from their suburban homes AND will want to live within a mile of their offices.
But if it's not McDonald's, what is causing the soaring prices in the West Loop?
Is it the neighborhood of choice for Millennials now? And aren't they all renting anyway?
Who's buying all the condos?
Someone just put a West Loop condo under contract at over $5 million [Crain's Chicago Business, by Dennis Rodkin, May 5, 2017]