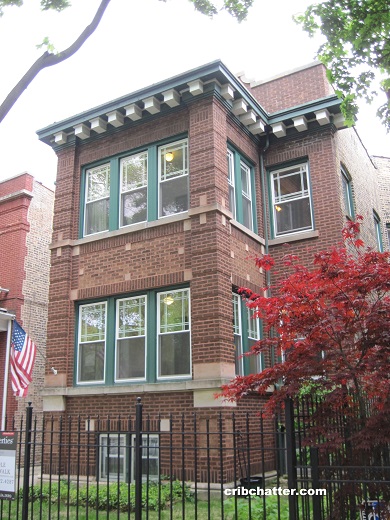 This 2-flat at 1205 W. Cornelia in Southport just came on the market.
Built in 1914 on an oversized 30×126 lot, the brick building has a 2-car brick garage.
There are 3 units in the building.
Unit #1: 2 bedroom, 1 bath "owners unit" on the first floor
Unit #2: 2 bedroom, 1 bath on the second floor
Unit #3: 1 bedroom, 1 bath in the basement
The basement also has a storage room and a coin-operated laundry room.
The building has gas heating. There's no air conditioning in the units. The listings indicate that there are window air conditioning units.
The 2-bedroom units have dining rooms and sunrooms.
The owner's unit, on the first floor, has an upgraded kitchen with stainless steel appliances and granite counter tops. It has been opened into the back porch and has a breakfast bar.
The listing indicates that Unit #2, on the top floor, is currently rented for $1700 a month. The other two units say "owner."
The listing also says projected rents for the building are "easily $6000 a month."
From public records, it looks like this building has only had 2 owners in the last 30 years.
This is a rare opportunity to get a 2-flat in this neighborhood.
This 2-flat is in one of the most desirable locations in all of Southport. It's just a few blocks to all the shops/restaurants/El and also just a few blocks to Wrigley Field.
Would this make sense as a "live in one and rent out the others" type of scenario for someone who wants to get into the landlord game?
Nicole Norwalk-Galanis at @Properties has the listing. See the pictures here.
1205 W. Cornelia: 2-flat, 5 bedrooms, 3 baths, 2-car garage
Sold in September 1988 for $260,000
Sold in September 1992 for $501,750 (not sure this is correct for this era but this is according to the ccrd)
Currently listed for $1,000,000
Taxes of $12,353
No central air. Window units only
Coin laundry room
Projected rents "easily $6000 a month"
Unit #1: 2/1 owner's unit
Unit #2: 2/1 rented for $1700 a month
Unit #3: 1/1 in basement; also owner's unit
Dining rooms and sunrooms in the 2/1 units