Luxury home sales were hot in the first half of 2017.
This shouldn't be surprising as the stock market continued to hit new all time highs. Usually, new highs in the stock market equals strong luxury home sales.
From Crain's:
Sales of high-end homes in Chicago and the suburbs grew sharply in the first half of the year, far outpacing the growth in the market overall.

"It looks to me like people are feeling better this year with the economy chugging along, and they're willing to spend money on a nice house," said Kim Kelley, an @properties agent on the North Shore whose clients bought a house in Glencoe for more than $5.1 million in April.

In the six-county area, 1,347 homes sold for $1 million or more in the first six months of the year, according to Midwest Real Estate Data. That's up nearly 13.4 percent from the first half of 2016.
But now, there are more million dollar homes and condos than ever before.
Two of the largest condo buildings under construction in the city, the Vista and One Bennett Park, will, combined, add another 475 condos priced over $1 million to the inventory.
But it's not just condos.
In the GreenZone, plenty of million dollar homes are going up in addition to re-sales.
"There are 14 homes for sale at $5 million or more in Lincoln Park, and there's only been one sale" at that level, said Jennifer Ames, a Coldwell Banker agent. She represented buyers who made the last big-dollar deal of the year's first half, paying $4.9 million last week for a six-bedroom, 7,000-square-foot home on Dickens Avenue in Lincoln Park.

In the Gold Coast, where two homes have sold for $4 million or more so far this year, there were 19 at $4 million and up on the market as of yesterday. There's oversupply in Lakeview, too, though it's not quite so lopsided. In the first half of the year, 83 homes in the neighborhood sold for $1 million or more, but 111 homes are listed in the $1 million to $2 million range.

Last year, Lincoln Park had three sales at $5 million and up in the first half, compared to just one this year, Ames pointed out. Some high-end listings "go weeks without a showing," she said.

Baird & Warner agent Marissa Schaefer says she sees a pattern to what isn't selling: "So many of them look the same," Schaefer said. At the price, and with so much competition, she said, buyers expect to land a home "that really stands apart architecturally."
Anyone who has walked around Lakeview over the last 3 years has seen dozens of new construction homes that look like these three.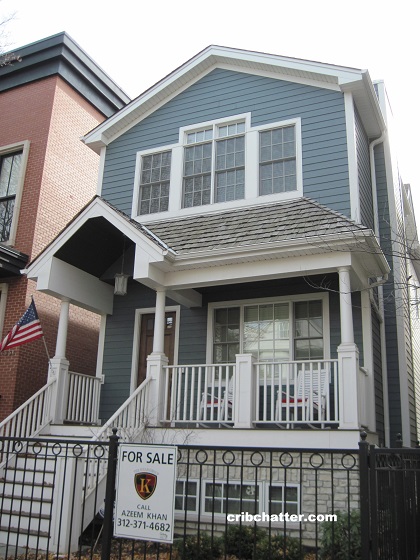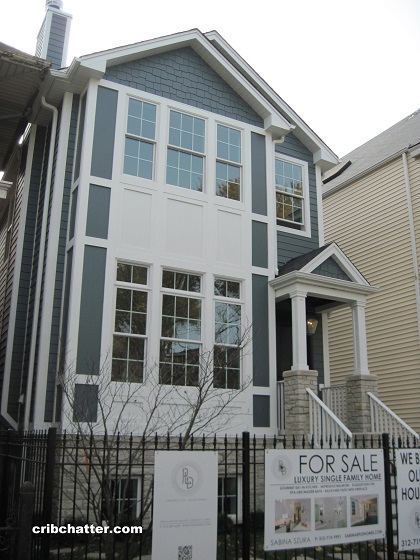 All of these were priced over $1 million.
Are we about to have a glut problem in the luxury market?
Luxury home sales surge in first half- but prices slip [Crain's Chicago Business, Dennis Rodkin, July 6, 2017]