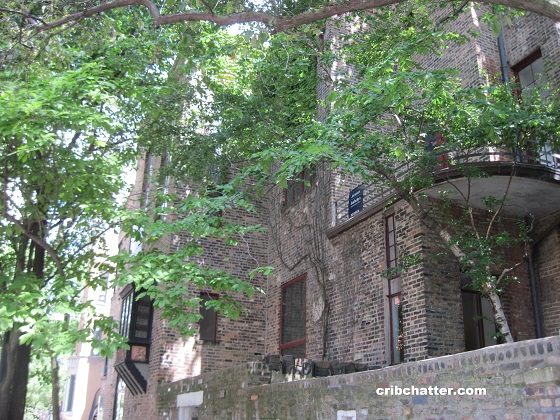 This 3-bedroom duplex in the Carl Street Studios at 155 W. Burton in Old Town recently came on the market again in July 2016.
But it has been on and off the market since 2009.
We first chattered about it in June 2009. You can see our chatter here.
The Carl Street Studios is a unique 15 unit complex built by architect Edgar Miller and Sol Kagen. Originally constructed as a Victorian home and coach house in 1880, it was renovated into the studios in 1927.
There is nothing like it in the city.
This unit is the largest in the complex at 3500 square feet.
It has the original mosaic, stained glass, Art Deco tiles, and carved doors.
The house has parquet floors and carved and painted ceilings.
There are 3 fireplaces.
The listing says the house was "modernized" in 2004.
It's now 13 years later, is that still a new renovation as far as buyers are concerned?
The kitchen has wood cabinets and stainless steel appliances.
There's a private rooftop deck and space pak cooling.
The complex doesn't have parking although the listing seems to indicate it includes parking.
In years past, there was the option to rent 2-car parking for around $420 a month nearby.
Also in prior listings, this unit was much larger, at 5,000 square feet. But this go-around, they have stripped out the 745 studio that is available to also purchase.
It was also listed at $3.1 million in 2009, but, again, that appears to include the studio, which is Studio #7.
Back in our 2009 chatter, some of you said it was the type of property that would either sell in a week or would still be on the market 5 years later.
The property is now listed at $1.6 million, without Studio #7.
With the luxury market the best since 2007, will this unique home finally find a new buyer?
Linda Shaughnessy at Jameson Sotheby's has the listing. See the pictures here.
Unit #2: 3 bedrooms, 2.5 baths, 3500 square feet
Sold in March 2003 for $1.8 million (included #2 and #7)
Listed in June 2009 for $3.1 million (included #2 and #7)
Reduced
On and off the market over the years
Re-listed in July 2016 for $1.6 million (only includes #2)
Assessments of $2548 a month (they were $3578 a month in 2009 with #7)- includes heat, exterior maintenance, lawn care, scavenger
Taxes of $27,284 (they were $29,704 in 2009 which included #7)
Space Pak cooling
Parking? (was rental in prior listings for $420 a month for 2 spots)
3 fireplaces
Rooftop deck
Bedroom #1: 13×23 (second floor)
Bedroom #2: 13×18 (second floor)
Bedroom #3: 8×12 (second floor)
Breakfast room: 19×10 (second floor)