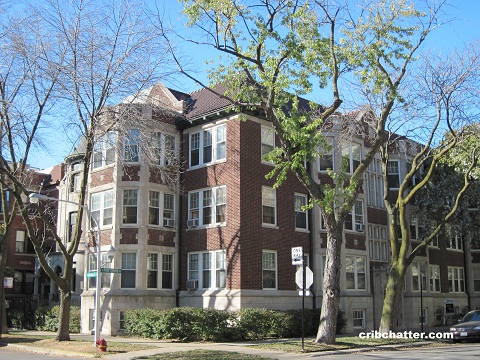 This 4-bedroom duplex up at 2948 N. Pine Grove in East Lakeview was listed in May 2017.
Many of you may remember it from the bust years as we chattered about it several times including in 2013.
Back then, it had been on and off the market from August 2009 until 2011 and had reduced to $399,900. It was available to either buy or rent (for $2750 a month). It then came back on the market in 2013 and finally sold.
Back in 2013, some of you were concerned about the spiral staircase that led to the second floor.
You can see our 2013 chatter here.
That issue has been addressed as the listing says there is a "brand new custom staircase" and it's NOT a spiral.
The listing also says there a remodeled kitchen on the main level which has white cabinets, a farmhouse sink and stainless steel appliances.
3 bedrooms are on the second floor along with a family room.
The fourth bedroom is on the main floor with the living room, dining room and kitchen.
While there's no central air, there's new space pak.
According to the listing, there's a new front load washer/dryer.
There's no parking with the unit.
The listing also points out its in the Nettlehorst school district.
Originally listed at $649,990, it has been reduced 4.9% to $599,000 since May.
With 4-bedrooms so rare, why isn't this selling?
Curt Ratcliff at @Properties has the listing. See the pictures here.
Unit #2: 4 bedrooms, 2 baths, 2000 square feet, duplex up
Sold in May 1992 for $207,500
Sold in June 2000 for $318,000
Sold in July 2006 for $469,500
Originally listed in August 2009
Was listed in June 2010 for $475,000
Reduced several times
Was listed in January 2011 for $399,900
Withdrawn
Was re-listed in 2013 for $449,000
Sold in August 2013 for $406,000
Originally listed in May 2017 for $649,990
Reduced
Currently listed for $599,000
Assessments now $489 a month (they were $518 a month in 2013) includes heat, exterior maintenance, lawn care, scavenger, snow removal
Taxes now $9374 (they were $8422 in 2013 and $8104 in 2011)
No central air- space pak cooling
Washer/Dryer in the unit
No deeded parking- rental in the neighborhood
Bedroom #1: 16×12 (second floor)
Bedroom #2: 14×10 (second floor)
Bedroom #3: 12×8 (second floor)
Bedroom #4: 14×10 (main floor)
Family room: 15×12 (second floor)