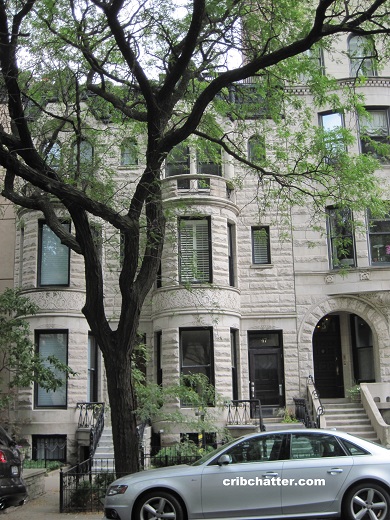 This 4-bedroom greystone row house at 47 E. Bellevue in the Gold Coast came on the market in June 2017.
Built in 1885, it has 5400 square feet and 3 outdoor spaces.
It has some of its original features including crown molding, the grand staircase and bay windows.
The listing says there were new mechanicals put in in 2013.
There's also a newer chef's kitchen with white cabinets and a 48″ stainless steel refrigerator.
There's also built-ins in the dining room along with limestone floors in the living room.
It has a bonus "hideaway" room, which the listing says could be used for an office, and exercise room or entertaining. You can see it in the pictures.
The master suite takes up the entire third floor and has a walk-in closet.
The row house has central air but there's no parking. The listing says they will pay for 3-years parking across the street in the 50 E. Bellevue high rise lot.
This property has been on and off the market since 2009 both as a listing for sale and as a rental.
Bellevue is considered to be one of the top streets in the Gold Coast with a host of restaurants/shops on one end and Lake Michigan on the other.
What's keeping this row house from selling in 2017?
Maria Metlzer at Baird & Warner has the listing. See the pictures here.
47 E. Bellevue: 4 bedrooms, 4 baths, 5400 square feet
Sold in August 2001 for $1.38 million
Lis pendens foreclosure filed in January 2009
Originally listed in February 2009 for $3.9 million
Reduced and withdrawn
Looks like it became bank owned in August 2010
Re-listed in December 2010 for $2.15 million
Withdrawn in January 2011
Re-listed in June 2012 for $1.799 million
Listed for rent in September 2012 for $10,000 a month
Also re-listed for rent in 2016 and 2017 for $11,500 a month
Re-listed in June 2017 for $2.4 million
Reduced
Currently listed for $2.1 million
Taxes of $30,938
Central Air
No parking- but will pay 3 years across the street in 50 E. Bellevue
Bedroom #1: 17×13 (third floor)
Bedroom #2: 17×13 (second floor)
Bedroom #3: 11×13 (second floor)
Bedroom #4: 13×15 (lower level)
Family room: 14×13 (main level)
Exercise room: 10×13 (second level)