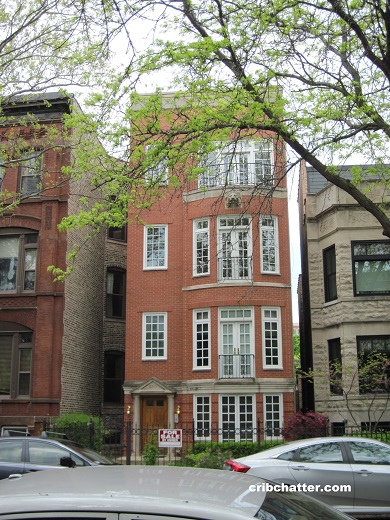 This 3-bedroom duplex at 820 W. George in Lakeview first came on the market in May 2017.
Built in 1993, it is a rare first floor duplex up as this style of construction isn't built anymore (they are almost always duplex downs.)
The living room, dining room, kitchen and family room are on the main floor along with a half bath.
The kitchen has white cabinets, granite counter tops and stainless steel appliances.
All three bedrooms and the two full baths are on the second floor, along with the laundry room.
The master-suite has a walk-in closet and it's own bath with double vanity.
It has a private 600 square foot garage roof as well as 1-car garage parking.
The unit also has central air.
It originally came on the market for $750,000 in May 2017 and then the price was actually RAISED after one week on the market to $779,000.
But after that, it was reduced numerous times and was even listed for rent for $3950 a month at one point.
It is now listed for $599,900, or $25,100 under the 2006 selling price of $625,000.
Three bedroom duplexes have been a hot commodity. This one has the bedrooms well above ground, instead of in the basement where they normally are located.
Is this a deal?
Matt Laricy at Americorp has the listing. See the pictures here.
Unit #1: 3 bedrooms, 2.5 baths, 2200 square feet, duplex up
Sold in July 1993 for $325,000
Sold in May 1999 for $440,000
Sold in August 2006 for $625,000
Sold in March 2011 for $505,000
Originally listed in May 2017 for $750,000
Price raised after a week to $779,000
Reduced numerous times
Was listed for rent from 8/31 to 9/13 for $3950 a month
Currently listed for $599,900
Assessments of $300 a month (includes exterior maintenance, scavenger and snow removal)
Taxes of $11,817
Central Air
Bedroom #1: 34×18 (second floor)
Bedroom #2: 14×12 (second floor)
Bedroom #3: 15×10 (second floor)
Laundry room: 8×6 (second floor)
Family room: 18×16 (main floor)