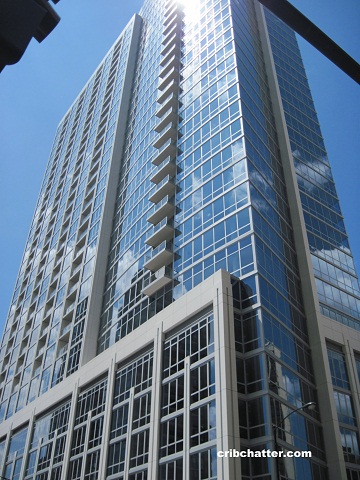 In the decade before the 2008 housing bust, thousands of "starter" condos were built in the GreenZone neighborhoods of Chicago.
By "starter", I mean they were condos ranging in prices from $150k to $400k and ranged in size from studios to 2-bedrooms.
Since the bottom of the bust in 2012, nearly all the new construction in the GreenZone has been "luxury" including new brick 3-flats in Lincoln Park and Lakeview where 2/2s start at $500,000 to 3-bedroom and 4-bedroom family units in River North, Streeterville and Gold Coast high rises.
Even new townhouses are priced above $500,000 now.
And while new construction luxury buildings keep getting announced, today, Crain's reported that one of the new condo developments that had been a condo building at 2 W. Delaware in the Gold Coast, then went to apartments, then were being sold again, are now going back to apartments.
From Crain's:
A venture led by Letchinger bought more than 150 rented condos last year in the high-rise at 2 W. Delaware Place, a project that stalled after the crash. With the condo market rebounding, Letchinger planned to renovate the building and sell the unsold units at prices ranging from $715,000 to $4.4 million.

Now, after selling just nine units, he's changing course. With tenants willing to pay sky-high rents to live in the building, Letchinger plans to keep renting out the remaining 144 unsold units, some at more than $10,000 a month.

"While we would love to sell them, it's just the path of least resistance," said Letchinger, president of JDL Development. "From a pure economic standpoint, it doesn't make sense to sell them."

Though the downtown condo market is healthy, it's not booming, and JDL and its partners, Norridge-based Harlem Irving and New York-based Angelo Gordon, ultimately decided it made more sense to swim with the tide than against it.

"There's just not a lot of velocity" in the condo market, Letchinger said. Though traffic at 2 W. Delaware's sales center was good, "there's not a lot of depth to the market."
Letchinger's JDL is the developer behind the nearly sold out 70-unit No. 9 Walton that is going up next door to this building. That's also a luxury building.
There are also numerous other luxury high rises currently being built including One Bennett Place and the Wanda Vista.
The Vista has 406 units and is, I've been told, about 45% sold. But even with that sales rate, that still leaves over 200 units that are priced at $1 million+.
2 W. Delaware has 198 total units. Some will remain condos while the others will be apartments (again).
But for those hoping that the over building in the apartment market would ultimately result in some apartment to condo conversions, hopefully at lower prices than the $1 million price point, are their hopes now dashed?
Are the days of starter condos in the GreenZone over?
And is that just a normal development as Chicago becomes a more successful city?
Developer aborts condo sales at Gold Coast tower [Crain's Chicago Business, Alby Gallun, October 18, 2017]