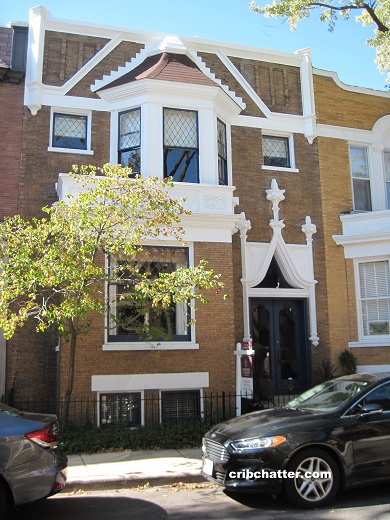 This 3-bedroom row house at 3808 N. Alta Vista Terrace in Lakeview came on the market in June 2017.
Alta Vista Terrace is a Chicago Landmark District.
These 40 row homes were built from 1900 to 1904 and were built to look like London row homes.
From the Chicago Landmark website:
This street represents one of the last real estate developments of Samuel Eberly Gross, a highly colorful realtor responsible for the construction of thousands of houses in the Chicago area. Sometimes called "A Street of Forty Doors," Alta Vista Terrace displays a lively variety of architectural styles and detail, yet every townhouse on one side is duplicated with only minor variations at the diagonally opposite end of the block. The distinctly human scale creates a unity and harmony rarely found elsewhere in the city.
There is no parking on the east side of the street but the west side has space behind the row homes for a garden or 1-car parking.
This row house is on the preferred west side of the street and has 1-car secured parking along with a landscaped patio.
The lot measures 25×40.
The house has some vintage features, including oversized bay windows with leaded glass in the living room and a built-in hutch and brick fireplace in the dining room.
The three bedrooms are on the second floor along with a 6×7 den and a bathroom.
The listing says there is a "chef's kitchen" with white cabinets, stainless steel appliances, granite counter tops, the original tin ceiling and a built-in banquette.
It also has an "English basement" with a family room, a laundry room, a full bath and storage.
The row house has 2 fireplaces and central air.
The listing also says it has new mechanicals and a new roof.
Originally listed for $899,000 in June, it has been reduced $100,000 to $799,000.
We've chattered about several of these row homes over the years. In 2011-2012, some of these would sell in the $500,000s.
But that was in a slow market.
Now, at $799,000, this row house is no longer in the starter home category.
Who are the target buyers for these now?
Won't these be turning over to the next generation of buyers, i.e. the Millennials?
Will Millennials want to live on a historic street such as this?
There are currently 3 of these row homes on the market.
Julie Sachs Capps at Berkshire Hathaway KoenigRubloff has the listing. See the pictures here.
3808 N. Alta Vista Terrace: 3 bedrooms, 2 baths, 2010 square feet, row house
Sold in January 1988 for $235,000
Sold in June 1996 for $350,000
Sold in March 2000 for $450,000
Sold in May 2005 for $720,000
Originally listed in June 2017 for $899,000
Reduced
Currently listed at $799,000
Taxes of $11,351
Central Air
1-car outdoor parking
Bedroom #1: 12×12 (second floor)
Bedroom #2: 9×12 (second floor)
Bedroom #3: 12×11 (second floor)
Family room: 14×20 (lower level)
Laundry room: 10×8 (lower level)
Den: 6×7 (second floor)