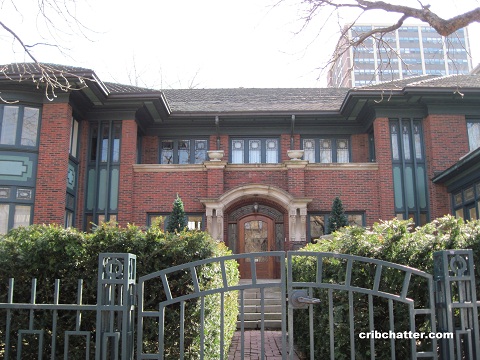 This 6-bedroom historic mansion at 817 W. Hutchinson in the Buena Park neighborhood of Uptown just came on the market.
If it looks familiar, that's because we've chattered about it several times since 2012.
See our October 2012 chatter here.
The Claude Seymour House is one of the many historic mansions that line Hutchinson on this landmarked block.
The Elite Street column in the Chicago Tribune highlighted it in 2013:
Designed by Prairie-style architect George Washington Maher and completed in 1913 for jewelry wholesaler Seymour, the more than 12,000-square-foot mansion has six bedrooms, four full baths, two half baths, leaded stained-glass windows, a grand mahogany staircase, three fireplaces, mahogany millwork throughout, an eat-in kitchen and a coach house atop a two-car garage.

The property has 136 feet of frontage and a wraparound yard.
If you recall, the house is on 5 city lots measuring 136×140.
It has a 2-car garage plus space for 2 cars on the driveway.
It has most of it's original vintage features, including moldings, stained glass, and a carved staircase along with 3 wood burning fireplaces.
All 6 bedrooms are on the third level.
The kitchen has stainless steel appliances and what look like stone counter tops.
There's also a library, game room and a big lower level recreation room.
It has central air.
Will the hot luxury market, thanks to the record high stock market, finally help sell this landmarked mansion?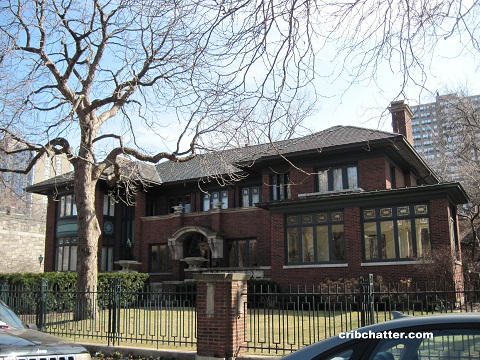 Alfred Cohen at Coldwell Banker now has the listing. See the pictures here.
817 W. Hutchinson: 6 bedrooms, 4 baths, 2 half baths, 12000 square feet, 2 car garage, studio
Sold in November 1993 (no price listed)
Originally listed in March 2011 for just 2 weeks at $5.195 million
Re-listed in October 2011 for $4.995 million
Lis pendens foreclosure filed in December 2011
Was listed in October 2012 at $4.995 million
Reduced
Was listed in August 2013 at $4.5 million
Withdrawn in February 2014 listed at $4.5 million
I can't tell if the bank now owns it
Re-listed in November 2017 at $5.69 million
Taxes are now $88,500 (they were $81,517 in August 2103 and they were $21,652 in October 2012)
Central Air
3 fireplaces
Bedroom #1: 19×19 (third floor)
Bedroom #2: 16×14 (third floor)
Bedroom #3: 17×12 (third floor)
Bedroom #4: 14×11 (third floor)
Bedroom #5: 10×15 (third floor)
Bedroom #6: 12×20 (third floor)
Recreation room: 50×28 (lower level)