We've been chattering for over a year about the dozens of luxury apartment high rises that have been built in the Green Zone and the implications of all those units.
But the boom isn't over yet.
Thousands more apartments are expected to come online in the next two years.
Crain's reports:
But the once-hot market is getting chillier amid an unprecedented development boom. Developers will complete a record 4,500 downtown apartments this year, 3,500 in 2018 and as many as 5,000 in 2019, Integra predicts.

While demand for apartments is as strong as it's ever been, it's not keeping up with supply. Absorption, the change in the number of occupied units, will total about 2,900 units this year—also a record—and 3,000 in both 2018 and 2019, according to Integra. Put another way, downtown supply growth—13,000 new apartments over three years—will exceed demand by 4,100 units, or 46 percent.
Apparently, apartment landlords are now getting nervous.
This winter, the incentives at the luxury buildings have increased as more units sit empty.
"The difference now is there's more fear of the unknown. We're getting aggressive because you don't know," says Jim Letchinger, president of Chicago-based JDL Development, which opened a 250-unit tower at 640 N. Wells St. over the summer. "Is this just seasonal, or is this something else?"

Leasing in the building is ahead of schedule but has slowed considerably. The building's conversion rate, or the percentage of people who visit its leasing office and sign leases, has dropped to about 20 percent from 40 percent six months ago, Letchinger says.

JDL has offered two months' free rent for some apartments, but only on leases for 17 months or longer, he says. In exchange for free rent, many landlords require leases longer than 12 months.

Arkadia Tower, a 350-unit West Loop high-rise that opened in 2015, was recently offering two months' free rent for leases that begin Nov. 30, plus $100 off the monthly rent, according to an email sent out to brokers. On a hypothetical apartment listed for $2,700 per month, the deal works out to a nearly 20 percent discount. The email (subject line: "Christmas Came Early @ Arkadia West Loop!") also offered a broker commission equaling a month and a half of rent.

"Right now is a great time to rent an apartment," said Aaron Galvin, founder and CEO of Luxury Living, an apartment broker. "The renter does want to feel like they're winning in some way now. . . .They're expecting to get something."

New tenants at one Loop building get to spin a wheel for cash prizes ranging from $150 to $1,000. Other landlords are offering free Netflix, internet, parking—even televisions.
But according to Crain's, it's not just the new buildings that are offering free rent. Older buildings that are already full are offering it to keep tenants which is unusual.
With older buildings feeling competitive pressure, it made me wonder, what does this mean for the condo landlords?
In years past, the condo rental would have been preferred because those buildings were considered "nicer" and more up-to-date, but today's luxury apartment towers have newer finishes. Many condo towers are now 10+ years old.
Additionally, apartment buildings often offer even nicer amenities, including rock climbing walls and free coffee daily in the lobby.
What's a condo landlord do to compete?
Will they have to offer 1-3 months free rent like the apartment buildings?
Will they have to waive move-in fees because the luxury apartment buildings are?
Do they need to renovate their unit so they have modern finishes?
Or simply lower the rent enough until they find someone?
Just doing a quick search of condo rentals downtown, and you can see some that are sitting on the market for several months. Yes, it's the "slow season" but every month you don't have a renter, is lost money.
Just doing a search of the listings and I find:
Near North Side: 796 properties listed for rent
Loop: 252
Near West Side: 214
West Town: 306
Near South Side: 180
Lake View: 408
Some of these will also be single family homes and townhouses, not just condos. And some apartment landlords are also listing their more expensive units on the MLS.
But this is a lot of inventory in the "slow season."
Here's an example of what is going on out there.
This 2-bedroom in The Pinnacle at 21 E. Huron in River North has been on the market since August 2017.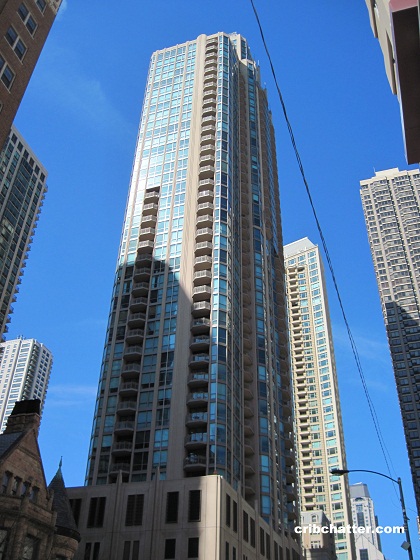 It's a corner west-facing unit with 1446 square feet.
It has hardwood floors in the living/dining rooms.
The kitchen has dark wood cabinets, granite counter tops and black appliances.
The bathrooms are marble.
The unit has central air, washer/dryer in the unit and it looks like garage parking is included (although I'm not 100% sure on that.)
Since listing in August 2017, the price has been reduced 12.5% to $4200 a month.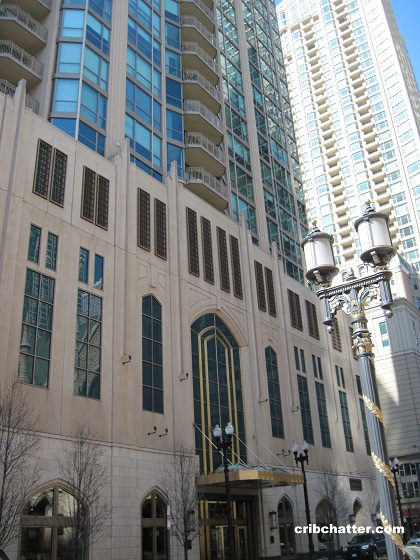 You can see the pictures here.
21 E. Huron #1407: 2 bedrooms, 2 baths, 1446 square feet
Listed for rent in August 2017 for $4800 a month
Reduced
Currently listed at $4200 a month
Looks like parking might be included. There's an attached garage
Indoor pool
Movie theater
Bedroom #1: 12×17
Bedroom #2: 12×12
What is its competition?
Just across the street is the new construction modern tower 8 E. Huron (on the corner of Huron and State.)
It has a rooftop pool and curated art on every floor.
It has hardwood floors throughout.
The kitchen has white modern cabinets.
The bathrooms aren't marble but have white modern finishes.
You can see pictures of that apartment here.
8 E. Huron #903: 2 bedroom, 2.5 baths, 1285 square feet
Just came on the market at $4340 a month
Looks like it might include the parking
The building just opened- not sure what incentives they're giving
Bedroom #1: 14×13
Bedroom #2: 12×11
Will 2018 be brutal for condo landlords trying to compete?
Apartment Landlords' New Pitch: Let's Make a Deal! [Crain's Chicago Business, by Alby Gallun, November 22, 2017]