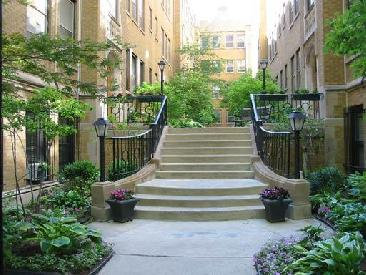 This 1-bedroom in the Waveland Court Condos at 640 W. Waveland in Lakeview recently came on the market.
It's been 5 years since we chattered about this 50-unit complex which was built in 1926.
Back in the bust years, we covered it quite a bit as many of the condos were in foreclosure.
See our 2012 chatter about a bank owned 1-bedroom here.
Ironically, this unit is also a Fannie Mae HomePath property.
It has hardwood floors throughout.
The living room has a wood burning fireplace.
The kitchen has white cabinets and stainless steel appliances.
It has some features that buyers look for such as an in-unit washer/dryer which is located in the kitchen.
The unit doesn't have central air but it looks like some condos have window a/c units, nor is there parking.
Listed by Fannie Mae at $208,000, that's just $8,000 above the 2008 purchase price.
This unit has been sold 4 times since 2003. This sale will be the 5th.
Is it a bad financial investment to buy a 1-bedroom condo?
Jason Reiner at Solid Realty Services has the listing. See the pictures here.
Unit #4B: 1 bedroom, 1 bath, no square footage listed
Sold in July 2003 for $165,500
Sold in September 2005 for $194,000
Sold in April 2008 for $200,000
Sold in December 2009 for $183,000
Lis pendens foreclosure filed in September 2016
Bank owned in October 2017
Currently listed for $208,000
Assessments of $326 a month (includes heat, cable, exterior maintenance)
Taxes of $2511
No central air
Baseboard heating
No parking
Wood burning fireplace
Bedroom: 13×10
Living room: 18×13
Kitchen: 11×11