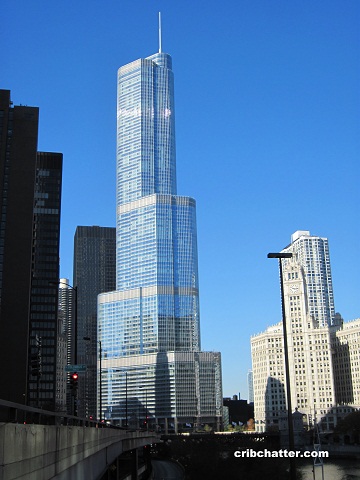 In December 2016 we chattered about whether or not you would be a buyer in Trump Tower Chicago with a President Trump in the White House.
You can read that chatter here.
With Trump now in the White House for about a year, Crain's took a look at the number of sales, and average price per square foot, in Trump Tower at 401 N. Wabash in River North.
Condos in Trump International Hotel & Tower sold for an average of $747 a square foot in 2017, according to data from Gail Lissner, managing director of Integra Realty Resources Chicago. That's down almost 12 percent from 2016, when sales at the 95-story tower on the Chicago River averaged $846 a foot, according to Lissner.

In the same period, prices in the downtown condo market overall rose by 2.8 percent, said Lissner, who has been tracking sales and prices of more than 20,000 units in 65 downtown buildings since 2007.

From 2014 through 2016, Lissner said, the per-foot average in the building ran above $800.
But what about some other "peer" luxury buildings?
According to Crain's, the average price per square foot in 340 On the Park at 340 E. Randolph in Lakeshore East, which had been a popular building even during the housing downturn, was up 12% from 2016.
Heck, according to Crain's, average price per square foot of condos sold in the Heritage, at 130 N. Garland, which is across from Millennium Park in the Loop, saw an increase of 7%. And I wouldn't consider the Heritage to be a "peer" of Trump Tower.
The number of sales was also down sharply in 2017.
The number of sales at Trump was also down, to 17 from 29, Lissner said. It's the second year with a steep drop in sales: In 2015, there were 56 sales in the tower, according to Lissner.

While sales at Trump dropped 41 percent in 2017, citywide sales of condos priced at $500,000 or more grew by 15.5 percent, to 3,635 for the year.
But could some of this drop be due to the new luxury buildings popping up downtown like No. 9 Walton, which sold out?  There's a lot of competition from newer construction.
What have sales done in other "peer" buildings like Aqua, 340 OTP, and 55 E. Erie? That would be a better comparison than simply the number of sales above $500,000.
For some buyers, having the Trump name on the side of the building appears to be a deal breaker.
But two brokers with listings at Trump say some buyers hesitate to look at condos purely because of the association with the president.

"Chicago is predominantly a Democratic city," said Jennifer Ames, a Coldwell Banker agent whose $9.9 million listing on the tower's 87th floor is under contract, with closing expected this spring. "When I put together a packet of condos for my clients to look at, and a Trump unit is in the packet, I sometimes hear, 'I wouldn't be comfortable living in that building.' "

Ames declined to say how many times it has happened other than that it's been more than once. "Before Trump was elected," she said, "it was never an issue."
How much of the slowdown in sales is attributed to the Trump Presidency and how much is simply the fact that the building is nearly 10 years old (it topped out in late 2008 and was finished in 2009) so it's starting to show it's "age"?
The luxury market is unforgiving on older finishes, especially with the dozen or more new luxury buildings that have been built, or are in the process of being built, in the last 10 years.
That includes the Vista Tower just to the east, which also has Chicago River views, as well as the possible renovation of Tribune Tower into luxury condos.
Will there be "deals" in Trump Tower Chicago in 2018?
Trump condo prices down 12% in 2017 [Crain's Chicago Business, by Dennis Rodkin, January 16, 2018]