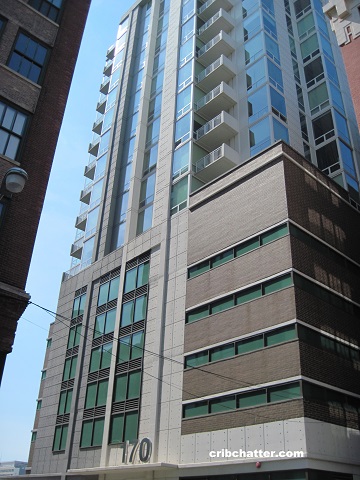 This 2-bedroom at Printers Corner at 170 W. Polk in the South Loop came on the market in October 2014.
Do they still even call this building "Printers Corner"?
It was originally marketed under that name in 2006 and 2007 because every unit was on some kind of a corner.
The building has 88 1 and 2-bedroom units on top of an indoor parking garage.
This unit is on a southwest corner and the listing says it has river views.
It has 10 foot floor to ceiling windows.
The kitchen has cherry cabinets, granite counter tops and stainless steel appliances.
It has the amenities buyers look for including central air, washer/dryer in the unit and parking is included.
The listing says this is a "regular closing" so it can close quickly.
The unit has come on the market $47,000 under the 2007 purchase price at $375,000.
The listing also touts the low monthly assessment of just $391 a month.
Are low monthly assessments in a mid-rise or a high-rise necessarily a good thing for buyers when the building has been around for 7 years?
Thuy Nguyen at 2E Real Estate has the listing. See the pictures here.
Unit #904: 2 bedrooms, 2 baths, 1168 square feet
Sold in November 2007 for $422,000 (included the parking)
Currently listed for $375,000 (includes the parking)
Assessments of $391 a month (includes a/c, gas)
Taxes of $4785
Central Air
Washer/dryer in the unit
Bedroom #1: 16×11
Bedroom #2: 11×11