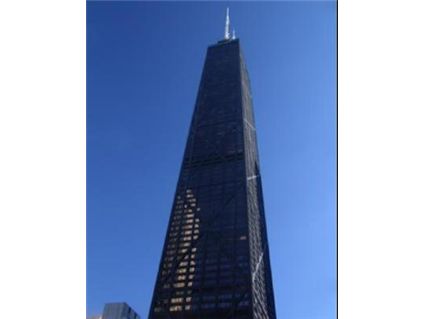 This 2-bedroom in the John Hancock Center at 175 E. Delaware in the Gold Coast came on the market in July 2016.
Built in 1969, the John Hancock has 700 units above commercial space and includes one of the highest residential units in the world.
This north facing unit has been renovated in the last 3 years.
At 1558 square feet, the prior listings said this is the largest 2/2 with den floor plan in the building.
It has red oak engineered wood flooring.
The kitchen has new St. Thomas custom cabinets, Arabian Nights granite countertops, a white subway tile backsplash and stainless steel appliances.
The bathrooms have new vanities.
It has a 9×8 "terrace" or den space with a window that vents (not all units have windows that vent, apparently.)
The unit has a Nest thermostat and in-unit washer/dryer. Parking is rental in the building.
According to the listing, the building has done a lot of upgrades recently.
The unit has 3 new a/c units, provided by the building, the parking garage was renovated, and the gym and indoor pool were also renovated this year (be sure to check out the picture of the indoor pool in the listing.)
This is a full amenity building with a supermarket.
There's no doubt when you tell a Chicagoan you "live in the Hancock" they know exactly what you mean. No address required!
This unit originally listed for $599,000 in July and has been reduced $20,000 to $579,000.
Is this an affordable entry point for buyers who want views and the Gold Coast location?
Get ready for more "iconic" Chicago residential high rises all this week.
What do YOU consider to be the iconic residential buildings in the city?
Chime in now, or forever hold your peace.
And, by the way, it's actually really hard to get a good picture of the outside of the John Hancock. It's so massive you need to be further away. But then, if you are further away, you'd better have a really good camera in order to really capture it.
This is the best I could do with my crappy camera.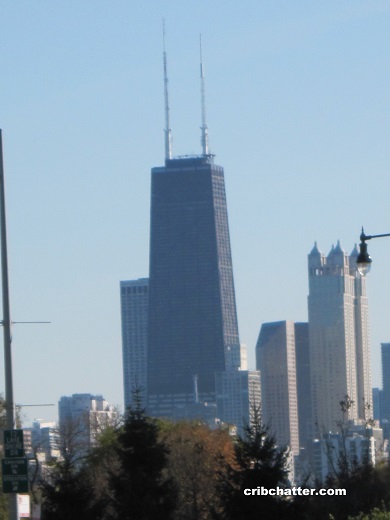 Martin Taradejna at Conlon has the listing. See the pictures here.
Unit #6304: 2 bedrooms, 2 baths, 1558 square feet
Sold in January 1981 for $200,000 (per Zillow)
Sold in March 2000 for $375,000
Sold in December 2013 for $435,000 (per Zillow)
Originally listed in July 2016 for $599,000
Reduced
Currently listed for $579,000
Assessments of $1121 a month (includes doorman, cable, exercise room, pool, scavenger)
Taxes of $8505
No central air. 3 wall units
Washer/Dryer in the unit
Parking is rental in the building from $295 to $325 a month
Bedroom #1: 16×27
Bedroom #2: 14×11
Terrace/den: 9×8