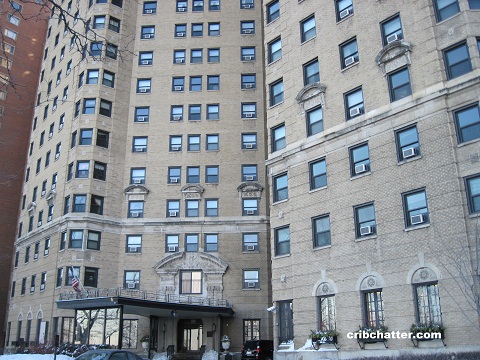 This 3-bedroom in 1400 N. Lake Shore Drive in the Gold Coast recently came on the market.
Built in 1927, this building has 398 units.
It was apartments which were converted into condominium units right at the peak of the boom in 2006.
The building was marketed to investors given it's location in the Gold Coast neighborhood overlooking the Lake.
By 2010, after the bust, the developer was auctioning off 30 of its remaining 80 units. See our chatter about the auction here.
This is one of the larger units in the building at 1600 square feet.
It is a corner unit with lake views.
The kitchen has been opened up to the rest of the unit and has stone counter tops and stainless steel appliances.
The listing says it has "remodeled baths."
There is a washer/dryer hook-up in the unit. Most of the smaller units do not have w/d in the unit.
There is no central air but this unit has window a/c.
There's no parking in the building but there's a landscaped sundeck on the roof.
This unit is leased until the end of August 2015.
This property came on the market at $550,000, or $94,000 above the 2006 purchase price.
Will it get the premium now that the market is hot again?
Laura Meier at @Properties has the listing. See the pictures here.
Unit #5N: 3 bedrooms, 2 baths, 1600 square feet
Sold in January 2006 for $456,000
Currently listed at $550,000
Assessments of $680 a month (includes doorman, sundeck)
Taxes of $3818
No central air- window a/c units only
Washer/Dryer hook-up in the unit
No parking
Bedroom #1: 13×11
Bedroom #2: 12×14
Bedroom #3: 10×12