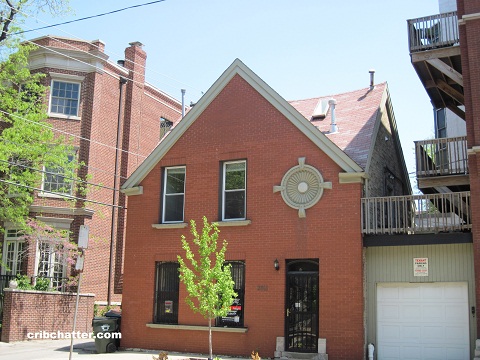 We've chattered about this 1-bedroom coach house at 2011 N. Kenmore in Lincoln Park several times over the last year.
See our December 2011 chatter here.
Until March 2012, the price hadn't seen a reduction in a year. The sellers were sticking with $315,000.
In December, most of you thought it had to be listed under $300,000.
It has now been reduced and is priced at $285,000.
If you recall, it is a duplex loft-like unit with skylights, exposed brick and exposed pinewood ceilings.
The kitchen is newer and has white cabinets, stainless steel appliances and black limestone countertops.
The listing says a new half bath was added and that the master bathroom has been completely renovated with a new rain shower.
Last year, the Groove thought it was one of the "coolest quirkiest listings on cribchatter" and he especially liked its Battlestar Galactica vibe.
It has central air but no parking. The garage in the picture is for the building on the other side of the coach house.
Is this property finally priced to sell?
Jennifer Mills at Koenig & Strey Real Living now has the listing. See the pictures and a virtual tour here.
2011 N. Kenmore: 1 bedroom, 1.5 baths, no square footage listed
Sold in June 2000 for $169,000
Sold in July 2003 for $241,000
Sold in May 2007 for $295,000
Was listed in March 2010 for $349,000
Reduced
Had been listed for $315,000 since March 2011
Reduced to $309,900 in March 2012
Reduced
Currently listed at $285,000
Assessments of $110 a month
Taxes of $3358
Central Air
Washer/Dryer
No parking
Bedroom: 21×18
Living room: 24×13
Kitchen: 13×9