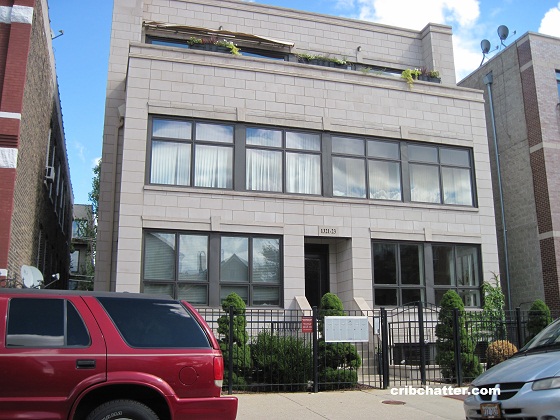 This 3-bedroom duplex down at 1321 N. Bosworth in West Town came on the market in late August 2012.
It was last bank owned and sold in June 2012.
The prior listing when it was bank owned said: "This may be your project! Wicker Park -Bucktown area, spectacular duplex down! In need of some repairs and replacement of missing items."
The kitchen cabinets were still intact but the appliances were missing. From the pictures in the prior listing, it appears that the bathrooms were also intact.
However, the pictures indicate the floors in the lower level were missing as was some drywall.
The new listing has the same kitchen and granite counter tops and backsplash. The Viking and Bosch stainless steel appliances are new.
A new wood floor has been put in in the lower level as well.
The unit was repainted and a new stone facade was put on the fireplace.
All three bedrooms are in the lower level.
Originally listed for $400,000, it was reduced to $375,000.
After only 21 days on the market it just went under contract.
Is a buyer still getting a deal on this unit even after paying the rehabber premium?
See the pictures of the unit "before" when it was bank owned here.
Kristina Ryan at Weichert Realtors- First Chicago has the listing. See the rehabbed pictures here.
(By the way- notice that the old unit had natural wood around the windows and moldings and the rehab unit painted it white. Should they have kept the "natural" look?)
Unit #1S: 3 bedroom, 2.5 bath, 1900 square feet, duplex down
Sold in September 2006 for $561,000
Lis pendens filed in March 2009
Bank owned in February 2012
Sold in June 2012 for $231,500
Originally listed in August 2012 for $400,000 (parking included)
Reduced
Currently listed at $375,000 (parking included)
Under contract
Assessments of $183 a month
Taxes of $7603
Central Air
Washer/Dryer in the unit
Bedroom #1: 18×16 (lower level)
Bedroom #2: 13×14 (lower level)
Bedroom #3: 12×11 (lower level)