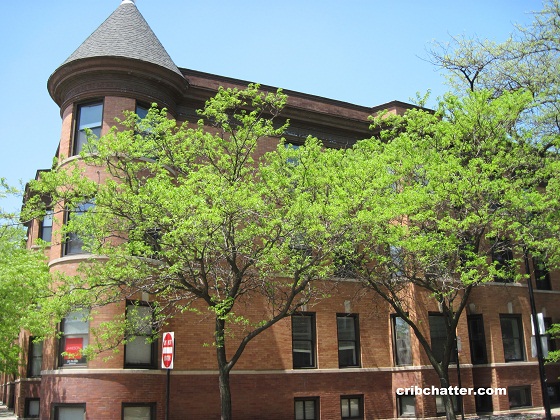 I've been watching this 2-bedroom duplex down at 1034 W. Armitage in Lincoln Park for months.
I was originally going to post on it last summer when it was bank owned but the realtor never put any interior pictures up with the listing.
And try as hard as I could to find a past listing, which would at least give us some sort of idea what it looked like inside, I couldn't find anything in the public domain.
So I didn't post anything on it.
The unit was bank owned and originally listed by the bank at $325,000 in July 2011.
At 1800 square feet, it was a duplex down with central air, washer/dryer and parking just down the street from the Brown line El.
Yet no one jumped on it even after several price reductions. All I could surmise was that there was a reason the agent put NO interior pictures up in the listing.
How bad was it?
It ended up selling for $250,000 in November 2011.
Lo and behold it has come back on the market just over 2 months later as a newly renovated unit.
It now has a new kitchen with the requisite dark cabinets, granite counter tops and stainless steel appliances.
The listing says there are new hardwood floors on the lower level, the loft and stairs. It also says there is an all new guest bath.
The two bedrooms are on the main level with the living area and kitchen on the lower level.
The unit also has cathedral ceilings.
It has come back on the market listed at $409,900 which is essentially what the property sold for in 2005.
Will the renovator get it?
Lance Kirschner at @Properties has the listing. See the pictures here.
You can also see it in person at the Open House on Sunday February 19: 12-2 PM.
Unit #A: 2 bedrooms, 2.5 baths, 1800 square feet, duplex down
Sold in September 1995 for $342,500
Sold in August 2001 for $366,000
Sold in January 2005 for $410,500
Lis pendens foreclosure filed in January 2010
Bank owned in February 2011
Originally listed in July 2011 for $325,000
Reduced several times
Sold in November 2011 for $250,000
Just re-listed for $409,900 (outdoor parking space included)
Assessments of $436 a month
Taxes of $8398
Central Air
Washer/Dryer in the unit
Bedroom #1: 17×12 (main level)
Bedroom #2: 12×12 (main level)
Loft: 9×10
Living room/Kitchen: on the lower level