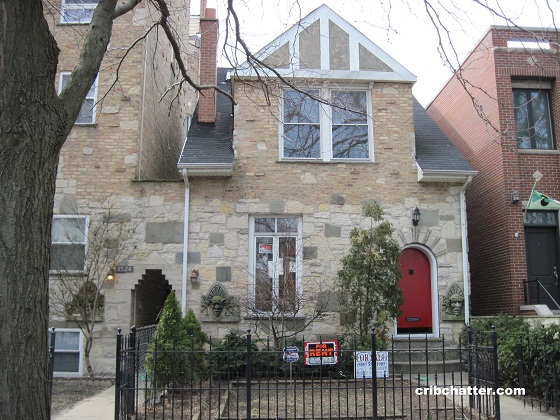 We've chattered about this house at 3526 N. Marshfield in Lakeview several times over the last year.
See our April 2012 chatter here.
It not only has "ornately carved faces" on the exterior (see the listing to see plenty of pictures) but in prior listings it talked about "underground tunnels"- although that reference has now been removed.
But in case you want to own a house with a past, this house was apparently once owned by a Chicago celebrity (of whom many of you named in the first chatter we did on this property back in March 2012- and she lived in the house nearly 20 years ago!).
See the March 2012 chatter here.
If you recall, the house was built in 1889. It is on an irregular lot measuring 27.2×73.5x60x51.5.
The listing still says the house is being sold "as-is."
All four bedrooms are on the second level and there is a family room in the basement.
The kitchen has dark cabinets and white appliances as well as a kitchen island.
The house has central air and a "gated yard with parking for 1-car".
The house is now listed for $64,000 more than last year.
Will the hot market matter with this property?
David Bovyn at Kale Realty still has the listing. See the pictures here.
3526 N. Marshfield: 4 bedrooms, 2.5 baths, 2500 square feet, 1 car parking
Sold in July 1991 for $160,500
Sold in February 1994 for $176,000
Was listed in March 2012 "as-is" for $550,000
Reduced
Was listed in April 2012 at $539,000
Withdrawn
Re-listed in July 2013 for $650,000
Reduced
Currently listed at $599,000
Taxes now $8056 (they were $7958 in April 2012)
Central Air
Bedroom #1: 20×12 (second floor)
Bedroom #2: 15×13 (second floor)
Bedroom #3: 16×12 (second floor)
Bedroom #4: 9×12 (second floor)
Family room: 30×17 (lower level)