A reader, K, posted on Apr 19:
"Looks like terrapin has told all of its owners that they are converting to rental…so they are giving everyone's money back. I feel bad for the true long term owners who were going to keep their units for a long time and not flip. I guess it's nice to use everyone's money to construct their building. Can you say class action?"
The Sun-Times also reported last week that the difficulties were continuing for Terrapin:
TERRAPIN TROUBLE: Sources say the creditors' noose is getting tighter around Chicago-based condo builder Terrapin Properties LLC. I'm told a plan to sell its biggest downtown-area project, the unfinished Burnham Pointe building at 710 S. Clark, to Equity Residential for $106 million has blown up. Terrapin principals that include James "Jake" Geleerd and Michael Ezgur could be forced into bankruptcy. They personally guaranteed a loan on another project that's in foreclosure.
The Burnham Pointe website doesn't say anything out of the ordinary. It's still trumpeting being "50% sold".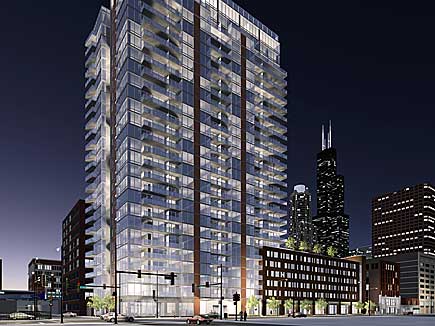 But the website is usually the last thing to change.
Anyone else with any update on the building?
On a side note, some flippers are probably pretty darn glad that they're simply getting their deposit back.
If this building does go rental, it would literally be right next door to the two massive rental towers that Avalon is looking to build in Printers Row.
From the Chicago Journal:
At a final meeting about Avalon Bay's proposal to build two 42-story rental towers and a 938-car garage on the southwest corner of Clark and Polk, the developer offered the community various sweeteners in the hopes of placating South Loop residents dreading another round of construction.

Residents and business owners living and working around ongoing construction projects on Clark-Burnham Pointe, at the northeast corner of Clark and Polk, AMLI, at 900 S. Roosevelt-have complained about construction techniques they said damaged their buildings.
The Residences at Burnham Pointe [website]