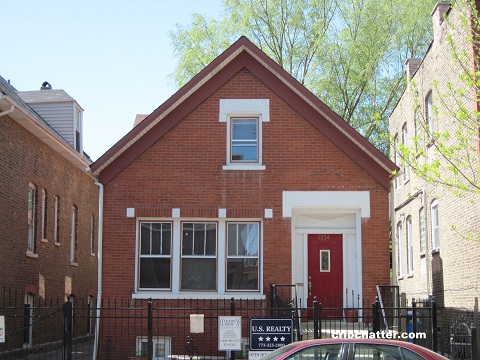 We last chattered about this 4-bedroom brick cottage at 1234 N. Marion in Wicker Park in September 2010.
Check out our prior interesting discussion about the mortgages and whether or not this is a teardown here.
Some thought tearing it down would be problematic because there is no alley- only the side driveway.
Financedoc also posted the following in 2011:
"Spent $150 for a full FHA inspection. The home is riddled with termites and crumbling. Minimum $200k to save and rehab. The seller will take $300k if you're up for it."
The bank has now taken it back, nearly 3 years after the lis pendens foreclosure was filed.
It was listed as a short sale for $339,000 in June 2011.
It just came back on the market (same realtor as the prior listings) for $359,500.
It is a Fannie Mae Homepath property. A HomePath Renovation Mortgage is available. There is also a 15 day first look for owner occupants- so you can't complain that the developers/rehabbers are getting them all.
You only need 3% down.
There are now interior pictures.
If you recall, the house was built in 1890 and is on a 33.3×110 lot.
There is no central air but there is a side drive with some parking.
3 out of the 4 bedrooms are on the second floor and the fourth is on the main floor.
Back in 2010 and 2011, some of you thought it had to sell for under $200,000 to make any rehab a viable option.
What do you all think of the price now?
Will this house finally sell in 2012?
Kirby Pearson at Pearson Realty Group still has the listing. See the pictures here (finally with interior pics).
1234 N. Marion Ct.: 4 bedrooms, 3 baths, 1 car parking on side drive, 1992 square feet
Sold before 1985
Originally listed in October 2005 for $749,900
Reduced several times
Lis pendens foreclosure filed in August 2009
Reduced in March 2010 to $399,999
Reduced
Was listed in September 2010 at $375,000
Reduced
Was listed in June 2011 for $339,000
Bank owned in July 2012
Re-listed as a Fannie Mae Homepath property at $359,500
Taxes now $9221 (they were $7241 in September 2010)
No central air
Bedroom #1: 13×12 (second floor)
Bedroom #2: 15×8 (main floor)
Bedroom #3: 17×15 (second floor)
Bedroom #4: 10×10 (second floor)