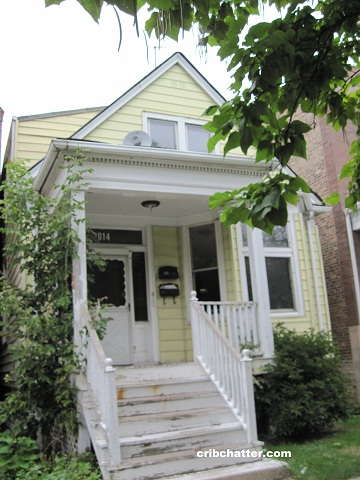 Thanks to anon(tfo) who pointed out that the 2-flat at 2014 W. Addison in North Center that we last chattered about in September 2010 when it was a short sale, finally sold and has come back on the market as a flip.
See our 2010 chatter here.
The listing now says it's "not a short sale or a foreclosure" although it's being sold "as-is."
The listing says the property needs a major rehab. It also did for the prior sale.
It says the zoning is RT-3.5 and that it's in a hot, hot location.
The 2-flat has the following units:
Unit #1: 2 bedrooms, 1 bath
Unit #2: 3 bedrooms, 1 bath
No renters are on the property as it was in distress for several years previously.
It's on a standard 25×125 lot.
Originally listed for $431,000 on June 17, it quickly was reduced to $399,999.
Will this flipper be successful?
Jennifer Sahinoglu at Falcon Living LLC has the listing. See the listing here.
2014 W. Addison: 5 bedrooms, 2 baths, 2 car garage, 2-flat
Sold in August 1990 for $143,000
Sold in September 2005 for $485,000
Originally listed in June 2010 for $399,000
Lis pendens filed in July 2010
Numerous reductions
Was listed in September 2010 as a "short sale" for $279,999
Finally sold in April 2012 for $200,000 (according to Redfin)
Originally listed in June 2012 for $431,000
Reduced
Currently listed for $399,999
Taxes now $8062 (were $6861 in 2010)
No central air
Zoning RT-3.5