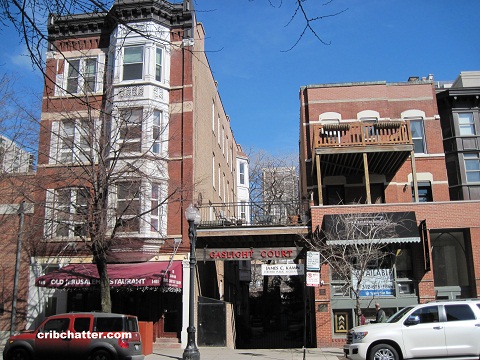 We've chattered about this 2-bedroom in Gaslight Court at 1407.5 N. Wells in Old Town 3 times over the last 4 years.
See our latest chatter in March 2013 here.
If you recall, it was listed for $70,000 over what it had sold for just 2 1/2 years before.
Many of you were obsessed with the realtor's description of it as "sheque and inviting." But at least one who chimed in about price thought we shouldn't be concerned about the property's past price history.
Listed at $320,000 it just recently closed for $277,500, or $27,500 over the 2010 price.
If you recall, in 2009, the square footage was listed at just 700 square feet.
The kitchen is the same as it was previously. It has maple cabinets, white appliances and an island.
There was no central air. It is window units only.
There also wasn't any parking with the unit, but it does have an in-unit washer/dryer.
The unit has just come back on the market as a rental available June 1 for $2300 a month.
Was this a good rental investment property given how hot Old Town is?
Kenneth Beltran at D'Aprile properties had the listing.  You can check out the rental listing (with pictures) here.
Unit #3E: 2 bedrooms, 1 bath, approximately 700 square feet (according to the 2009 listing)
Sold in January 2002 for $190,000
Sold in June 2009 for $235,000
Sold in September 2010 for $250,000
Originally listed in March 2013 for $320,000
Sold in May 2013 for $277,500
Assessments now $350 a month (they were $266 a month in 2010)
Taxes now $3678 (they were $2642)
Now available to rent for $2300 a month
No central air- window units only
In-unit Washer/dryer
No parking
Balcony
Bedroom #1: 11×11
Bedroom #2: 10×10
Living room: 19×13
Kitchen: 13×9