If there was one thing many of us noticed about the movie "The Breakup" with Vince Vaughn and Jennifer Aniston- it was the vintage apartment they lived in.
Of course, that was just a movie, right?
That's why I was intrigued when I ran across this recent listing of a 3-bedroom unit at 448 W. Wrightwood in Lincoln Park which said if I liked the apartment in The Breakup, then this was the home for me.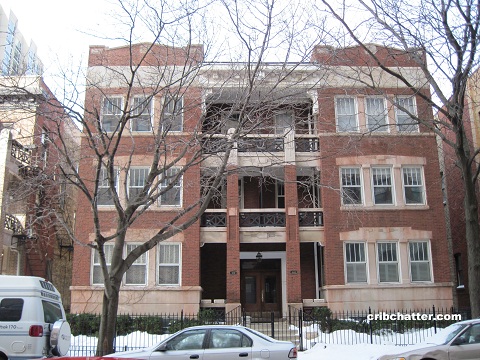 Could it be true?
The listing says this unit has been "gutted to perfection" but a lot of the vintage features still remain.
It has stained glass, coffered ceilings and moldings.
The listing says it has an "Ann Sachs kitchen" with white cabinets and stainless steel appliances. (Is it just me or are white kitchen cabinets suddenly "in" again?)
There is central air, an in-unit washer/dryer and a heated driveway leading to garage parking.
But the layout, with the long hallway which was seen throughout the movie, looks surprisingly familiar.
Here's a link to a blog with pictures of the apartment/set used in The Breakup. You be the judge.
Jena Radnay at @Properties has the listing. See the pictures here.
Or you can see for yourself at the Open House on Sunday, February 20 from 1:00-3:00 pm.
Unit #1: 3 bedrooms, 2 baths, 2100 square feet, 1 car parking
Sold in November 1994 for $277,000
Sold in October 1996 for $365,000
Sold in December 2000 for $525,000
Sold in March 2003 for $595,000
Sold in July 2007 for $640,000
Currently listed for $699,000
Assessments of $302 a month
Taxes of $7145
Central Air
Washer/Dryer in unit
Garage Parking
Bedroom #1: 15×13
Bedroom #2: 14×10
Bedroom #3: 11×9