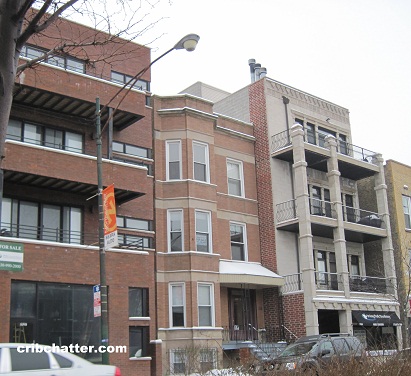 This 3-bedroom at 1929 W. Irving Park in North Center has been on the market since October 2011. (It is the vintage building in between the two new construction buildings in the picture above.)
It is bank owned and is currently listed for 34% under its 2004 purchase price.
According to Case-Shiller, Chicago prices have declined 34.8% through November 2011.
This building was constructed in 1903 and was converted into condos in 2004.
This unit looks like a typical vintage layout with a separate dining room and three smaller bedrooms.
From the pictures, it appears the kitchen is intact. It has stainless steel appliances, cherry cabinets and granite counter tops.
Pictures also indicate that the one bathroom is intact as well.
The listing says there are "real" hardwood floors. There is also central air.
There is no mention of a washer/dryer or of parking, but the 2004 sale appears to have included a parking space.
Since October, the unit has been reduced $40,000.
Compared to renting, is this a deal?
Jason Shapiro at Rising Realty has the listing. See the pictures here.
Unit #3: 3 bedrooms, 1 bath, no square footage listed
Sold in December 2004 for $301,500
Bank owned in June 2011
Originally listed in October 2011 for $239,900
Reduced
Currently listed at $199,900
Assessments of $202 a month
Taxes of $4018
Central Air
No mention of washer/dryer
No mention of parking
Bedroom #1: 14×8
Bedroom #2: 12×8
Bedroom #3: 11×8
Dining room: 16×11