Piece of Logan Square History Still Available in the 8-Bedroom Spencer Kimbell Mansion: 2556 N. Kimball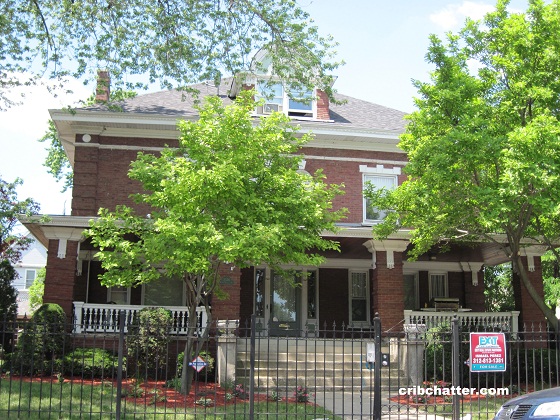 This 8-bedroom single family home at 2556 N. Kimball in Logan Square has been on the market since October 2011.
The listing says it is the Spencer S. Kimball Mansion which was built in 1905. But after some digging around, it seems that the listing agent got the name wrong of the original owner- as did the city of Chicago when naming the street- because it was Kimbell with an "e" – not an "a".
The street was named after the family later- but the city messed up the spelling and that's how it ended up with an "a."
The house is at the corner of Kimball and Fullerton and used to make up an area called Kimbell Farm. Here's what I found out on the all-knowing Google:
"However, for historical reference and as a point of amusement, the original Kimbell Farm extended from Kimbell/Kimball Avenue (spelling "was flubbed" in the City's 1909 re-naming) to a street name that escapes me, just a few blocks west of Central Park, and from Fullerton to just past Wrightwood.

Wrightwood Avenue was a gift to the City in 1895 by Martin Kimbell's family, west of Kimball/Kimbell and allowed for its extension to Crawford (now Pulaski Road).

The Kimbell Farm supplied the early Town and City of Chicago with produce
and hay for horses in the late 1830′s, via an old Indian Trail, developed in part by Kimbell and others into Northwest Plank Toll Road. That street is now known as Milwaukee Avenue."
The house is on an oversized lot measuring 81×125 and has a 2-car garage.
The listing says the interior has been restored. There are still many of the original vintage features including pocket doors, beamed ceilings, and stained glass.
The kitchen has white cabinets and some white and stainless appliances (there is a stainless steel stove.)
6 of the 8 bedrooms are somehow on the second floor with the 2 remaining bedrooms and a library on the third level.
The house has been reduced $201,223 since October. It is now listed $152,223 below the 2005 purchase price.
What price will it take to sell this property?
Ismael Perez at Exit Real Estate has the listing. See the pictures here.
2556 N. Kimball: 8 bedrooms, 5.5 baths, 5170 square feet, 2 car garage
Sold in June 1997 for $345,000
Sold in December 2005 for $1.2 million
Originally listed in October 2011 for $1.249 million
Reduced
Currently listed at $1,047,777
Taxes of $13,109
Central Air
Bedroom #1: 28×14 (second floor)
Bedroom #2: 15×16 (second floor)
Bedroom #3: 14×15 (second floor)
Bedroom #4: 20×15 (second floor)
Bedroom #5: 15×14 (second floor)
Bedroom #6: 14×18 (second floor)
Bedroom #7: 14×18 (third floor)
Bedroom #8: 12×15 (third floor)
Library: 12×14 (third floor)