In The Last 13 Months, This Bowmanville 4-Bedroom Greystone Reduced 18%: 1944 W. Farragut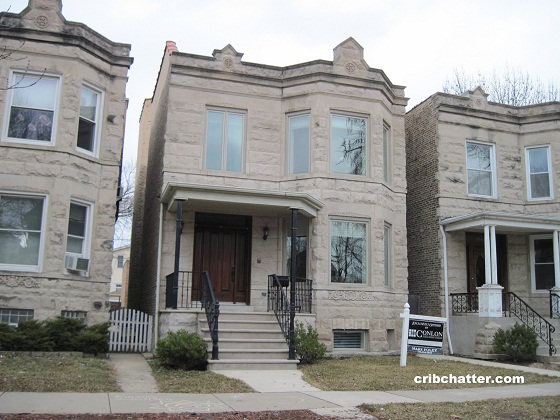 We last chattered about this 4-bedroom greystone at 1944 W. Farragut in Bowmanville in February 2012.
See our prior chatter here.
Originally listed for $1.349 million in May 2011, you all chimed in as to whether the Bowmanville neighborhood, which is part of Lincoln Square, could command that high of a price.
The consensus was: "no" (or "hell no" as roma put it.)
Most of you thought it wouldn't sell for over $1 million.
4 months later, the house has been reduced another $150,000 to $1.099 million.
If you recall, the listing indicates it was formerly a two flat that was converted into a single family home.
The house has 3 fireplaces, crown molding and a box ceiling in the living and dining room.
Four of the six bedrooms are on the second level, with the remaining two in the lower level where there is also a recreation room.
The rear of the house has also been updated to have a wall of windows, which the listing indicates is from the basement to the second floor.
There are also $23,000 in custom window treatments included with the house.
It has an updated kitchen with stainless steel appliances, a large island and stone counter tops.
The house is on a 125×29 lot, has a 2-car garage and 2 decks, including one on the roof of the house and one on the roof of the garage.
It is still the most expensive single family home on the market in the immediate neighborhood.
How hard is it to sell the most expensive house in a neighborhood?
Mary Foley at Conlon still has the listing. See the pictures here.
You can also see a video presentation here.
1944 W. Farragut: 6 bedrooms, 3.5 bathrooms, 4500 square feet, 2 car garage
Sold in March 1995 for $168,000
Sold in December 2001 for $417,000
Originally listed in May 2011 for $1.349 million
Reduced
Was listed in February 2012 at $1.249 million
Reduced
Currently listed at $1.099 million
Taxes of $9800
Central Air
3 fireplaces
Bedroom #1: 14×23 (second floor)
Bedroom #2: 11×13 (second floor)
Bedroom #3: 13×13 (second floor)
Bedroom #4: 9×7 (second floor)
Bedroom #5: 13×13 (lower level)
Bedroom #6: 12×11 (lower level)
Family room: 23×15 (main level)
Recreation room: 21×23 (lower level)