Trying To Sell Without Central Air During a Heat Wave: 2034 N. Seminary in Lincoln Park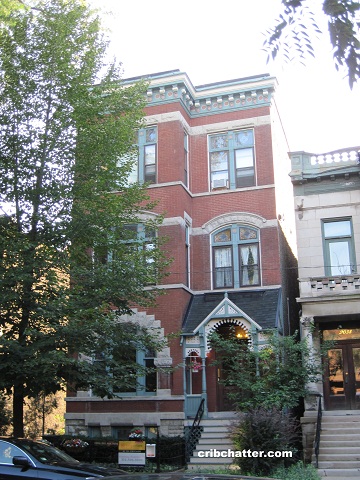 We last chattered about this 2-bedroom vintage unit at 2034 N. Seminary in Lincoln Park in August 2011.
See our prior chatter here.
At that time, the unit was priced $16,500 under the 2004 purchase price. The property didn't sell, however, and was withdrawn from the market in October 2011.
With news that the market appears to be hotter, the unit has come back on the market again this time listed at $399,000 or $10,000 less than when we last chattered about it in August.
If you recall, this is a vintage 2-bedroom that used to be a three bedroom but one of the small bedrooms was turned into a walk-in closet.
Much of its original 1891 woodwork has been restored.
It has built-in bookcases, a fireplace and hardwood floors throughout.
The unit also has stained glass windows and high ceilings.
The kitchen, however, has been renovated and updated with stone counter tops and stainless steel appliances including SubZero.
The unit has a washer/dryer in the unit and a private garage however it does not have central air.
Given that this is so far the hottest summer in about 25 years, should properties without central air (this unit has window units) wait until the fall to list?
Neringa Northcutt at @Properties has the listing once again. See the pictures here.
Unit #3: 2 bedrooms, 1 bath, 1400 square feet
Sold in August 1999 for $308,000
Sold in December 2004 for $425,500
Originally listed in February 2011 for $435,000
Reduced in July 2011
Was listed in August 2011 at $409,000
Withdrawn in October 2011
Currently listed for $399,000
Assessments of $139 a month
Taxes of $3159
No central air (window units only)
Washer/Dryer in the unit
Parking included
Bedroom #1: 16×14
Bedroom #2: 13×10
Walk-in closet: 9×9 (was bedroom #3?)