5 Years Later, Owners in 340 On The Park Continue To Cash In: 340 E. Randolph In Lakeshore East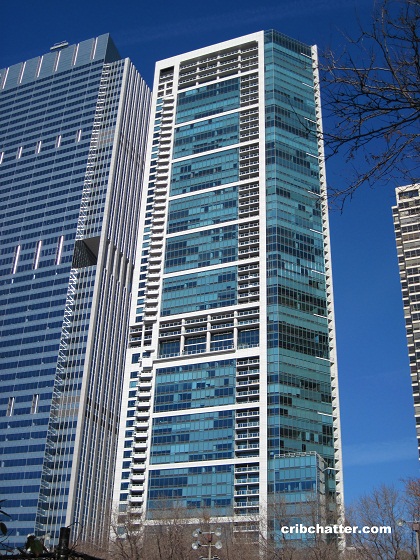 5 years ago, the new high rise 340 On The Park at 340 E. Randolph in Lakeshore East was just beginning to close on units.
There were flips appearing on the market (remember those?) and more than a dozen of the units were listed as rentals.
See our September 4, 2007 chatter here.
The south facing units with views of Millennium Park and the lake were hot out of the gate, despite all of the interiors being essentially the same (the same kitchen/baths were put in most of the units.)
5 years later, the south facing units continue to sell like hotcakes and for a premium.
This 43rd floor 2/2 came on the market less than 2 months ago and is already under contract.
It has just 1567 square feet.
At the current list price of $1.149 million, that is $733 a square foot. (Remember, since 2008, the Park Tower at 800 N. Michigan has averaged the highest per square foot price in the city at $760 a square foot.)
The listing says it is the highest floor with this floorplan.
The kitchen has Snaidero cabinets and quartz counter tops.
There are bamboo floors.
The HOAs are a bit confusing. It lists $618 a month but also says there is a "masters association fee" that is $1238 a month. The other units on the market in the building seem to have the lower amount monthly payment however.
This unit is listed for $310,000 more than the 2007 purchase price (including the parking).
The south facing units in this building HAVE been making a profit (and quite a bit of it.)
Will this building see even more appreciation as the housing market improves?
How many people thought five years ago that this building would be one of the premier buildings in the city and would command top prices?
Walter Stunard at Prudential Rubloff has the listing. See the pictures here.
Unit #4303: 2 bedrooms, 2 baths, 1567 square feet, south facing
Sold in December 2007 for $889,000 (included the parking)
Lis pendens foreclosure filed in June 2012
Originally listed in July 2012 for $1.149 million
Under contract at $1.149 million (plus $50,000 for parking)
Assessments of $618 a month
Also has a "master association fee" of $1238 a month (includes heat, a/c, doorman, pool, cable, exercise facility, winter garden) ????
Taxes of $5875
Central Air
Washer/Dryer in the unit
Bedroom #1: 13×13
Bedroom #2: 10×13