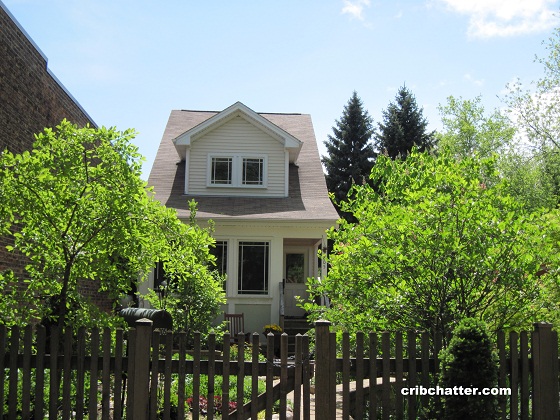 We last chattered about this 4-bedroom Victorian at 1805 W. Cornelia in the Roscoe Village neighborhood of North Center in April 2012.
See our prior chatter here.
Back in April, most of you voiced concern over having the El on one side of the house and the Metra train on the other. Most of you were looking at the value of the land.
The house has now been re-listed with the land listed separately. Each is on a 25×125 lot.
Does this mean bye-bye to the koi poind, pergola with fire pit and dog run?
If you recall, there is no garage or off street parking with the property.
In the house, two of the four bedrooms are on the second floor with two on the main floor.
The house has a cathedral beamed great room with skylights.
The listing says there is hardwood floors under the carpet on the main floor.
It also has a partially finished basement and central air.
The properties are now listed for about $100,000 more than when it was listed as a combined property 7 months ago.
Will this separation technique be more successful in selling this property?
Kenneth Marier at Prudential Rubloff still has the listings.
See the pictures of the house here.
See the pictures/listing of the land here.
1805 W. Cornelia: 4 bedrooms, 3.5 baths, no square footage, no parking
Sold in June 1989 for $58,000
Sold in September 1995 for $93,500
Sold in April 2002 for $335,000
Was listed in April 2012 for $899,000
Separated from the land next door
Just the house is now listed at $599,000 (combined now listed at $989,000)
Taxes are now $10,054 (was $9965 in April 2012)
Central Air
Bedroom #1: 17×25 (second floor)
Bedroom #2: 15×14 (second floor)
Bedroom #3: 8×12 (main floor)
Bedroom #4: 11×11 (main floor)
1809 W. Cornelia: 25×125 vacant land
Sold in June 1997 for $185,000
Sold in May 2005 for $410,000
Currently listed at $399,000
Taxes of $6279