The Coolest 12-Car Garage Just Came On The Market In Streeterville: 505 N. Lake Shore Drive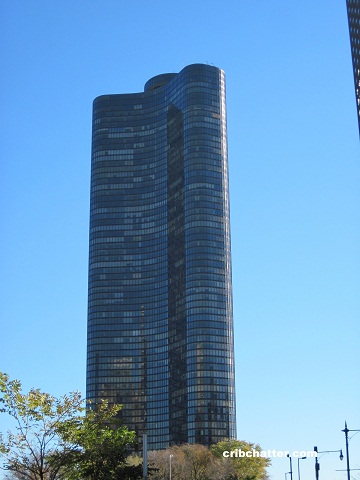 This 1-bedroom on the 67th floor of Lake Point Tower at 505 N. Lake Shore Drive might not seem particularly interesting at first glance until you take a look at the pictures of the 12-car garage that comes with it.
Yes- you read that right.
A 12 car garage.
The condo is 2537 square feet with south and east views.
Everything is white, including the white carpet, the white tiles in the kitchen and bathrooms, the white kitchen cabinets and appliances and the white bathrooms.
The listing says this unit was once a 2-bedroom but has been converted into a big 1-bedroom.
It has wall air conditioning and in-unit washer/dryer.
But the thing that sets it apart is the 12-car parking.
This is a garage built for a collector with a red painted concrete floor and yellow painted concrete ceiling.
The pictures in the listing show an entertaining area including a flat panel television and a bar. Although I couldn't find any indication in the listing that there is water to the garage (or a rest room.)
The listing DOES say it has separate heat, air conditioning, air handling and security.
There is also a separate assessment and taxes.
You can buy the condo and the garage together for $3.4 million or the garage separately for $2.1 million.
Is this a once-in-a-lifetime opportunity for a buyer with a car collection?
Katherine Malkin at Baird & Warner has both listings. You can see all the pictures, including the garage, here.
You can also see the listing (but no pictures) of the garage here.
Unit #6705: 1 bedroom, 2 baths, 2537 square feet including 12 car parking garage with 2714 square feet
Sold the condo in October 1990 for $432,000
Sold the parking in October 1996 for $31,000 (not sure there aren't more pins involved here or what)
Currently listed together for $3.4 million
OR you can buy the garage alone for $2.1 million
Assessments on the condo are $2453 a month (includes pool, doorman, cleaners, restaurant)- not sure if this amount also includes the garage assessments or not
Taxes are $14,228
Assessments on the parking are $812 a month
Taxes are $3236
Wall unit air conditioning
In-unit washer/dryer
Bedroom #1: 23×29