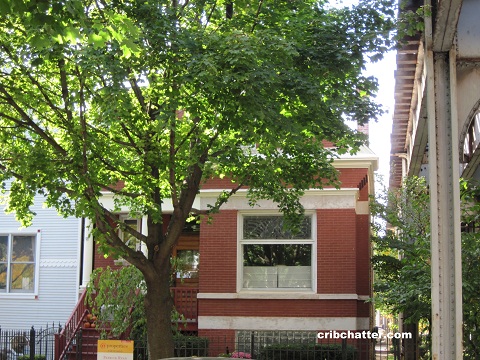 We last chattered about this 3-bedroom brick single family home at 3408 N. Bosworth in the Southport neighborhood of Lakeview in October 2010.
See our previous chatter here.
We had a very productive discussion about who would live near the El line tracks and at what price. (We also discussed the possibility of the El lines being buried underground. Dream on…)
This house originally came on the market in April 2010 for $749,000 which most of you thought was way too high. Several of you thought this would sell in the $300,000s. Some said they wouldn't even pay $100,000 to live that close to the El.
If you recall, the house has most of the features buyers look for including central air and a 2 car garage.
Built in 1877 on a 25×125 lot, it has some of its original features including stained glass but also has been updated, including a new chef's kitchen with Viking and Jennair appliances, white cabinets and granite counter tops.
2 of the 3 bedrooms are on the second floor and the property has an unfinished basement.
The house only has 1 bathroom however.
Before it was withdrawn from the market in 2010, this house was listed as low as $589,000.
Re-listed at a time when there's very low inventory, will buyers now overlook the location?
Deborah Nick at Conlon now has the listing. See the pictures here.
3408 N. Bosworth: 3 bedrooms, 1 bath, no square footage listed, 2 car garage
Sold in February 1996 for $132,000
Sold in February 1997 for $170,000
Sold in June 2002 for $428,000
Sold in July 2005 for $569,000
Originally listed in April 2010 for $749,000
Reduced
Was listed in October 2010 for as low as $589,000
Withdrawn
Currently listed for $599,000
Taxes now $10,747 (they were $8523 in Ocotber 2010)
Central Air
Bedroom #1: 15×14 (second floor)
Bedroom #2: 14×10 (second floor)
Bedroom #3: 11×8 (main floor)
Living room: 23×12
Dining room: 12×12
Kitchen: 16×9
Mudroom: 9×6
Unfinished basement