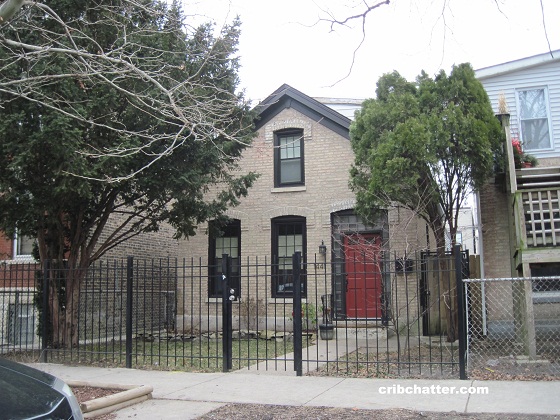 We last chattered about this 3-bedroom cottage at 1441 N. Campbell in East Humboldt Park in March 2013.
See our chatter here.
If you recall, it was on the market for 5 months in 2012 during the peak spring/summer buying season and didn't sell.
It returned to the market at the same time of the year this year listed for $26,000 more at $395,000.
Many of you felt it was overpriced for the neighborhood but apparently the buyers didn't agree as it went under contract quickly.
It recently closed for the 2013 asking price of $395,000.
You'll recall it was built on a standard 25×125 lot and had a 2-car garage.
Some upgrades had been made to the home.
The kitchen had white Kraftsmaid cabinets with stainless steel appliances and a red vintage refrigerator.
There was some exposed brick.
There were dark bamboo floors on the main level.
2 of the three bedrooms were on the second level with the third on the main floor.
There was an unfinished basement.
Is East Humboldt Park one of the new "starter home" neighborhoods for those priced out of the GZ?
Michael Clouse at Element 78 Realty had the listing. You can still see the pictures here.
1441 N. Campbell: 3 bedrooms, 1 bath, 1700 square feet, 2 car garage
Sold in August 1991 for $60,000
Sold in November 1999 for $70,000 (??? the public record says $7,000 but I think that's a typo given the 1991 price and it was not bank owned.)
Sold in July 2007 for $265,000
Originally listed in March 2012 for $369,000
Withdrawn at the same price in July 2012
Re-listed in March 2013 at $395,000
Sold in May 2013 for $395,000
Taxes of $3576
Central Air (??? – listing says it has C/A but also says there is no C/A)
Bedroom #1: 15×15 (second floor)
Bedroom #2: 14×15 (second floor)
Bedroom #3: 9×11 (main floor)
Laundry room: 8×7