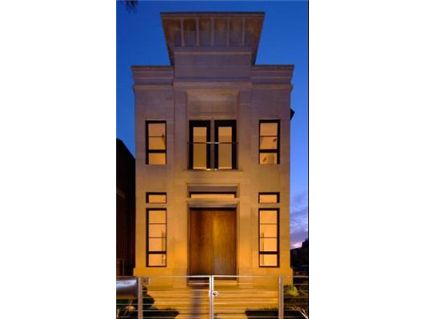 Thanks goes out to the eagle eye of a dedicated Crib Chatter reader who recognized this contemporary 5-bedroom house at 2820 N. Paulina in Lakeview from our prior chatter of it in 2008 and 2009.
See our June 2008 chatter here.
It recently came back on the market and is now bank owned (with the bank having transferred the deed to a property management company.)
Built in 2007, on a smaller than standard 25×118 lot, it has apparently never been occupied.
Long term readers will remember it from its heated sidewalks, and built-in iPod docking stations (is this out of date already?) and 16 hidden cameras (!).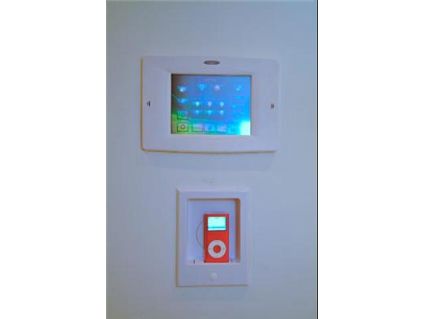 The new listing doesn't mention the cameras, by the way. Maybe they have been removed.
The kitchen still has Wolf appliances but it appears that the cabinets have been replaced (you can see the previous listing pictures in the 2008 chatter.)
The bathrooms look the same, however.
2 of the 5 bedrooms are on the second floor with the third on the top floor. The other 2 bedrooms are in the basement.
The house is in the popular Burley School District.
Will it finally sell 6 years after it was built?
David Piche at Re/Max Signature has the listing. See the latest pictures here.
Or see it in person at the Open House on June 29 from 1PM-3PM.
2820 N. Paulina: 5 bedrooms, 5.5 baths, 4475 square feet, 2 car garage
Built in 2007
Was listed in June 2008 for $2.275 million
Lis pendens foreclosure filed in December 2009
Bank owned in December 2012
Currently listed for $1.54 million
Taxes of $26612
Central Air
Bedroom #1: 18×17 (second floor)
Bedroom #2: 18×17 (second floor)
Bedroom #3: 13×13 (basement)
Bedroom #4: 18×14 (third floor)
Bedroom #5: 12×14 (basement)