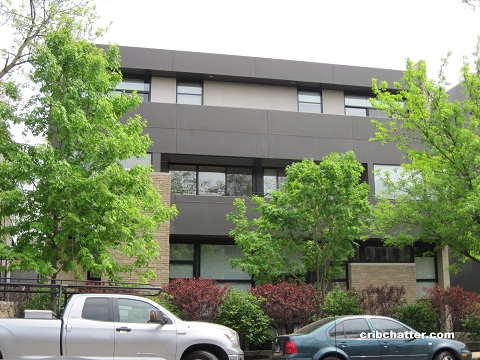 We've been chattering about this 2-bedroom top floor unit in 919 N. Wolcott in West Town on and off since 2010.
See our May 2011 chatter here.
If you recall, this is a Ranquist development.
The unit had been converted from a 3-bedroom to a 2-bedroom but it also had two outdoor spaces including a private 9×15 terrace off the master bedroom and a large 11×26 terrace off the great room.
It also had a top of the line Arclinea kitchen with Miele and Gaggeneu appliances. The massive kitchen island also had a modern stainless steel counter top.
There were all the features you would expect from new construction including central air, an in-unit washer/dryer and parking.
Interestingly, we've chattered about this building before and specifically about the "sister" penthouse, Unit #301.  It had similar luxury finishes.
That unit sold in May 2010 for $675,000.
This unit came back on the market in May 2013 at $699,900 to test this hotter market.
It finally recently sold for $635,000.
Given what #301 sold for in 2010, and the market is now hotter, did someone get a deal?
Ivona Kutermankiewicz at Koenig & Strey Real Living had the listing. You can still see pictures here.
Unit #302: 2 bedrooms, 2 baths, no square footage listed, 2 car parking
Sold in March 2004 for $430,000
Sold in July 2008 for $707,500 (included the parking)
Originally listed in August 2010 for $700,000
Reduced
Was listed in December 2010 for $689,000 (plus $18,000 for parking)
Reduced
Was listed in May 2011 for $650,000 (plus $18,000 for parking)
Withdrawn
Originally listed in May 2013 for $699,900
Reduced
Sold in July 2013 for $635,000
Assessments of $334 a month (they were $284 a month in 2011)
Taxes now $7232 (they were $6959 in 2011)
Central Air
Washer/Dryer in the unit
Bedroom #1: 14×14
Bedroom #2: 10×12
Family room: 10×11
Related Posts
« We Love Living in Old Churches: A 3-Bedroom at 1547 N. Leavitt in Wicker Park Looking For a 1-Bedroom With Lincoln Park and Lake Views for Under $225,000? 2500 N. Lakeview »