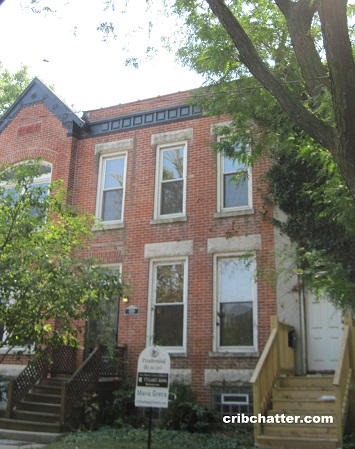 We last chattered about this 2-bedroom vintage rowhouse at 2343 W. Altgeld in Logan Square in April 2010.
See our prior chatter here.
Most of the chatter was on the rowhouse's location near the Kennedy Expressway.
The rowhouse is on a smaller than normal Chicago lot of 18×100.
If you recall, it has 2-bedrooms on the second floor, an unfinished basement, a backyard and a 1.5 car private garage (although the listing says that it could fit 2 small cars or 1 oversized car.)
There are hardwood floors throughout.
The kitchen still has white cabinets and appliances.
The rowhouse has the other bells and whistles buyers look for like central air. It also has a full bath with each bedroom on the second level.
Back in 2010 it was listed at $299,000 but never sold.
It has come back on the market at $374,500.
Will it sell for the higher price in this hot market?
Mario Greco at Prudential Rubloff now has the listing. See the pictures here.
2343 W. Altgeld: 2 bedrooms, 2.5 baths, 1.5 car garage, 1600 square feet
Sold in October 1988 for $56,000
Sold in March 1990 for $230,000 (?)
Bank owned in June 1995
Sold in September 1995 for $81,000
Sold in December 1995 for $95,000
Sold in August 1999 for $172,000
Sold in October 2003 for $305,000
Originally listed in May 2009
Currently listed at $299,000
Taxes of $4500
Central Air
Unfinished basement
Bedroom #1: 17×15
Bedroom #2: 12×10