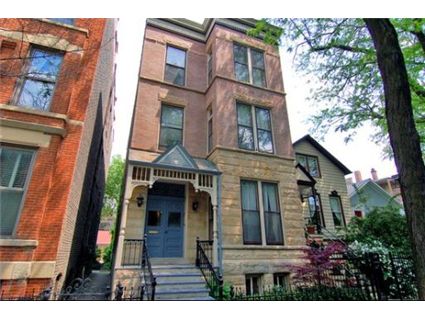 This vintage 2-bedroom at 1647 N. Sedgwick in Old Town just came on the market in September 2014.
If it looks familiar to some of you old timers, that's because it is. We last chattered about it back in the "innocent" times, in June 2008.
See our very interesting prior chatter here.
At the beginning of the summer of 2008, the financial markets had not experienced the collapse of Lehman Brothers or of the stock market.
And the housing market was still pretty "hot."
Some of you called this unit your "dream" home in 2008.
This top floor unit in a 3-unit vintage building has tall ceilings and original wood moldings along with a wood burning fireplace in the living room.
If you look at the pictures in the 2008 chatter, you can see that the kitchen cabinets have been painted white and there are now quartz counter tops and stainless steel appliances.
I can't tell exactly what they did in the bathroom but that's at least a new vanity and lighting.
This unit has two outdoor spaces, a deck off the back and a private rooftop deck with city views.
It has all the other features that buyers look for, including central air, washer/dryer in the unit and rare (at least for Old Town) garage parking.
People who went to the open house for this unit in 2008 reported that it was swarming with people.
The agent at that time posted this comment:
"I was the listing agent for this property. We received 5 offers within the first week, accepted the best. However, the buyer got cold feet and walked. We reactivated the listing on the MLS, but immediately returned to the other 4 offers and accepted one within a few days. The property sold for near the asking price with five offers on the table. It was without a doubt, a fantastic property and it was a joy to represent."
There was also a spirited discussion in the old chatter about who could afford this $420,000 unit (i.e. who even had a down payment).
Inventory levels in Lincoln Park were discussed – with Steve Heitman actually saying :
"Let's not forget that 95% financing is still available. My guess is that the credit markets will loosen in the next 6 months."
Homedelete wagered that this unit would again sell at the 1999 price (which was $300,000).
G said inventory wasn't dropping due to sales saying:
"This is the typical bubble after-effect where the sellers insist on chasing the market down, thus making it somewhat sticky."
Ah…memories.
Having sold in a week in a bidding war in 2008, this unit has returned 6 years later priced just $13,000 above the 2008 purchase price, at $425,000.
It's currently been on the market for 11 days.
30-year fixed mortgage rate when it went under contract in June 2008 = 6.3%
30-year fixed mortgage rate right now = 4.1%
What will happen with this unit this go around?
Gregory Desmond at Berkshire Hathaway KoenigRubloff now has the listing. See the pictures here.
Unit #3: 2 bedrooms, 1 bath, no square footage listed
Sold in October 1997 for $252,000
Sold in November 1999 for $300,000
Sold in July 2008 after a bidding war for $412,000
Listed in September 2014 for $425,000
Currently still listed for $425,000
Assessments now $173 a month (they were $150 a month in 2008)
Taxes now $5996 (they were $3916 in 2008)
Central Air
Washer/Dryer in the unit
Garage parking included
Bedroom #1: 14×9
Bedroom #2: 12×9
Private rooftop deck: 27×16