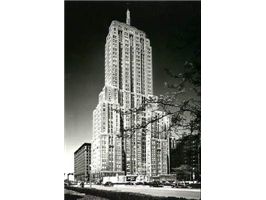 Remember the news last year that Vince Vaughn had bought the penthouse in the Palmolive, at 159 E Walton in Streeterville/the Gold Coast for $9.5 million (original list price of $10.5 million)?
It was, at the time, touted as the most expensive condo unit ever sold in Chicago.  The Palmolive penthouse had been for sale for several years.
Imagine my surprise, then, when I was reading the Tribune's coverage of the Chicago Spire's $40 million penthouse and James Kinney, President of Rubloff Residential Real Estate said the following:
He said the highest sale price recorded in the multiple listing service is $8.27 million, paid in November for a 10,950-square-foot penthouse at 800 N. Michigan Ave. There might be condominiums that are worth more than that, Kinney said, but they have not yet been marketed.
I thought – maybe he had just gotten it wrong. Maybe he forgot about Vince Vaughn!
But, surprisingly, the public records do not indicate a sale of the penthouse at the Palmolive.  The most expensive unit ever sold in the building was #22A, which sold in 2006 for $6.2 million.
What happened to Vince?  And what has happened to the penthouse?
It is no longer on the market.  But yet it never sold.  Could the developer be renting it to Mr. Vaughn?  It would be good PR for the unit.  People love living where celebrities have lived.  Case in point: the couple from Texas who just overpaid for Paris Hilton's LA home.
Maybe the "news" of the sale was really just planted rumors.  You get it out there that Vince Vaughn bought your penthouse (when he really is just renting it for a few years.)  Then in a few years time, it comes back on the market at a crazy high price and everyone knows it as "the condo that Vince Vaughn lived in" which would be the truth.
Better than having it sit empty, and unsold, for several more years, right?
It's a mystery.  For now, then, 800 N. Michigan holds the title of "most expensive condo" that has ever sold.  Other condos are trying to unseat it, however.  The most expensive re-sale unit currently on the market is at  209 E. Lake Shore Drive for $9.2 million.