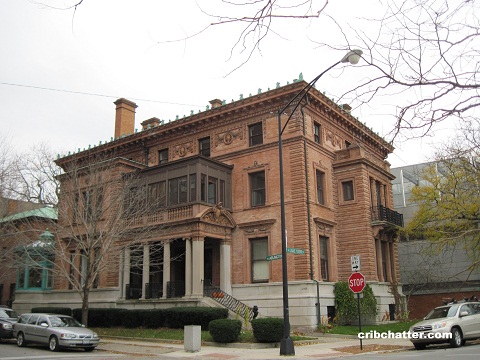 We last chattered about this 9-bedroom mansion at 2466 N. Lakeview in Lincoln Park in November 2011.
You can see our previous chatter here.
Strangely enough, I just mentioned this house in a comment on another post and here it is being re-listed.
The house is known as the Theurer-Wrigley House.
Located directly on Lincoln Park on the corner of Lakeview and Arlington, the mansion was built in 1894 for brewery baron Joseph Theurer in the Italian Renaissance style.
According to Wikipedia, he sold it to the Wrigley family in 1911 but they largely abandoned the property in the 1930s. Apparently, during the Great Depression, according to Wikipedia, many mansions became subject to burglaries and kidnappings, such as that of the Lindbergh baby.
It was listed on the National Register of Historic Places in 1980.
The house last sold in 2004 for $9 million.
It has much of the features of a mansion built in 1894 including original cherry and mahogany wood paneling and staircases. It has crown molding and 5 fireplaces.
The main house has 9-bedrooms in 15,000 square feet. 5 of the bedrooms are on the second floor, three are on the third and one is in the lower level.
There is also a coach house on the 85×120 property with 5-car parking, 3 cars in a garage and 2-cars on the driveway.
There's no central air, only window units.
The listing also doesn't have any pictures of the kitchen or baths.
In 2011, it was listed at $9.5 million. It was on the market for a year before being removed.
It has come back on the market at $8.695 million.
In May 2011, there was also a lis pendens foreclosure filed against the property.
Crain's investigated what was going on with the foreclosure filing:
The status of the foreclosure suit is unclear. Court records show case documents were filed as recently as July. Mr. Tetzlaff and James Benak, a local lawyer representing him in the foreclosure suit, did not immediately return messages seeking comment.
In 2011, some of you thought a developer might buy this house and turn it into condos similar to what they did with the McCormick Mansion in the Gold Coast and the Marshall Field Mansion in the Prairie District.
What do you think will happen now?
Will it find a buyer this time around?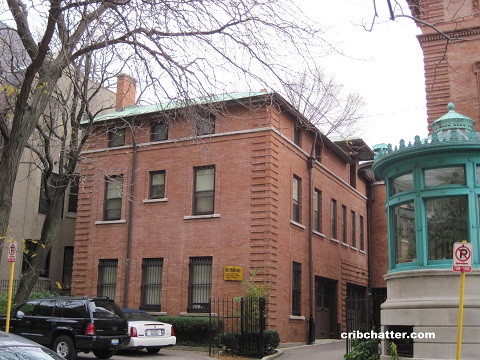 Mary Bennett at KoenigRubloff again has the listing. See the pictures here.
2466 N. Lakeview: 9 bedrooms, 7.5 baths, 15,000 square feet in the main house, coach house with 2 apartments, 5 car parking
Sold in April 2004 for $9 million
Lis pendens foreclosure filed in May 2011
Was listed in October 2011 for $9.5 million
Withdrawn in October 2012
Currently listed at $8.695 million
Taxes are now $145,294 (they were $118,395 in 2011)
No central air- window units only
2 apartments in coach house for staff
5 fireplaces
Bedroom #1: 20×17 (second floor)
Bedroom #2: 18×12 (second floor)
Bedroom #3: 14×12 (second floor)
Bedroom #4: 20×13 (second floor)
Bedroom #5: 15×12 (second floor)
Bedroom #6: 18×13 (third floor)
Bedroom #7: 19×16 (third floor)
Bedroom #8: 11×10 (third floor)
Bedroom #9: 15×12 (lower level)