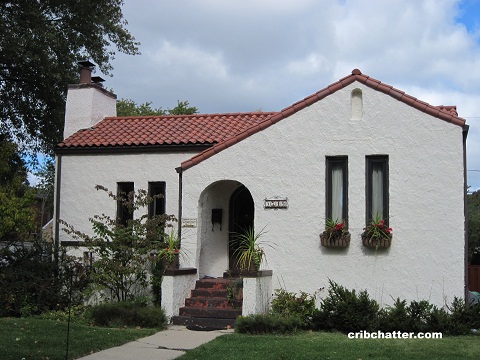 This 3-bedroom vintage Spanish Mediterranean single family home at 5749 N. Manton in Jefferson Park came on the market in April 2015.
What I love about Crib Chatter is that we continually see the same properties come on the market over and over again.
We've actually chattered about this house twice before.
Once in 2010- and you can see our heated chatter about market conditions here. (We weren't even close to a "bottom" yet- but some of us thought we were in 2010-2011.)
And again in 2012 when the house was in short sale. See that chatter about who would even buy a Spanish style house in Chicago here.
It finally sold as a short sale in 2013.
Now, the house is back on the market and the listing says it has been "totally rehabbed in 2014."
It has a new kitchen with wood cabinets and stainless steel appliances.
The listing says its mechanicals have also been updated with a new furnace, a/c, plumbing and electric.
Built in 1926 on a corner 45×125 lot, it still has its original clay tile roof.
Strangely, this is the only Mediterranean house on the block as most of the others are traditional Chicago bungalows.
But the Mediterranean style was popular in home building in the 1920s and 1930s, especially in neighborhoods like Beverly.
The listing describes this area as "South Edgebrook" but it has usually been called Jefferson Park for real estate purposes.
In 2006, this house sold at the peak for $380,000.
It is currently listed for $395,000 after the renovations.
Is the market strong enough to get the premium in Jefferson Park?
Antonieta Groza at Coldwell Banker has the listing. See the pictures here.
5749 N. Manton: 3 bedrooms, 2 baths, 1349 square feet, 2 car garage
Sold in July 1997 for $175,000
Sold in August 2006 for $380,000
Lis pendens foreclosure filed in May 2010
Was listed in October 2010 as a "short sale" for $324,900
Withdrawn
Was listed as a "short sale" in October 2012 at $230,000
Sold in September 2013 for $205,000
Currently listed for $395,000
Taxes are now $4091 (they were $4832 in October 2012 and $4268 in October 2010)
Central Air
Bedroom #1: 17×11
Bedroom #2: 12×12
Bedroom #3: 12×10
Partially finished basement