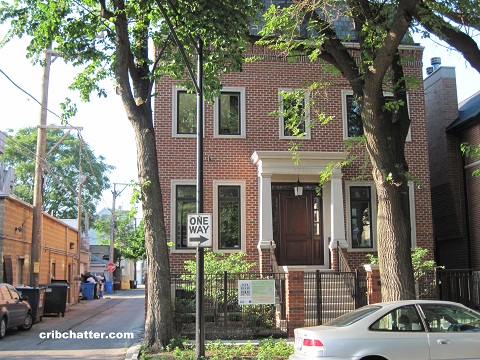 This 6-bedroom single family home at 1542 W. Nelson in Lakeview came on the market in June 2015.
Built in 2011 on an oversized lot measuring 35.8 x 124, it has 6600 square feet and an attached 3-car garage.
The house has 4 fireplaces and built-in bookcases as well as multiple terraces 4 of the bedrooms are on the second floor with the fifth on the third and the sixth in the lower level.
The kitchen has white cabinets and appliances with a large kitchen island with stone counter tops.
If the house looks familiar it's because we chattered about it 4 years ago in August 2011.
See our chatter here.
Back then, the house had newly been built, but the market was much different.
Listed for $2.25 million, it was reduced and then finally sold in November 2011 for $1,534,500.
It came back on the market in June of this year for 60% higher, at $2,690,000.
The house has since been reduced to $2.595 million.
This is the hottest luxury market since the boom years.
Will the recent stock market correction slow luxury sales?
Or will it take an even bigger stock market sell off to put a damper on the upper bracket?
Linda Shaughnessy at Jameson Sotheby's has the listing. See the pictures here.
1542 W. Nelson: 6 bedrooms, 5 full baths, 2 half baths, 6600 square feet, 3 car garage
Old frame house being sold for the land value originally listed in September 2008 for $745,000
Reduced numerous times
Sold in January 2010 for $480,000
New construction home listed in May 2011 for $2.25 million
Reduced
Sold in November 2011 for $1,534,500
Originally listed in June 2015 for $2,690,000
Reduced
Currently listed at $2.595 million
Taxes are $27,086
Central Air
4 fireplaces
Bedroom #1: 18×18 (second floor)
Bedroom #2: 17×13 (second floor)
Bedroom #3: 14×13 (second floor)
Bedroom #4: 12×12 (second floor)
Bedroom #5: 21×15 (third floor)
Bedroom #6: 18×15 (lower level)
Media room: 15×12 (lower level)
Recreation room: 28×18 (lower level)